Dear Raymond,
Yes, you can use a T5 fluorescent light to flower a pot plant. The benefits of using this type of lighting is the lack of heat that they generate. Because they're not super-warm, you can place your plant tops within just a few inches of the light. The disadvantage of flowering under fluorescent lighting is the lack of light intensity and penetration. This makes the Screen of Green (ScrOG) method ideal as you can train the flowering tops to create a level canopy close enough to the light.
Dear Dan,
Just wondering if you would use a T5 to flower a pot plant? – Raymond M.
T5 Fluorescent lights over motherplants.
My recommendation, however, is to grow under High Intensity Discharge (HID) lighting such as High-Pressure Sodium (HPS) or (Metal Halide) systems. Although they run much hotter and use more electricity, they produce plenty of light for plants to thrive and build thicker flowers. If you're interested in a bigger yield from increased light and can handle the added heat, HID lighting is ideal for indoor marijuana production.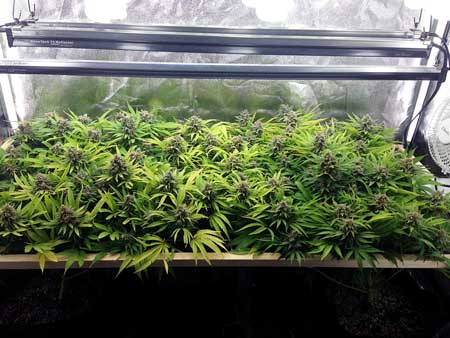 Training plants to grow very short will produce the best yields with T5 grow lights
The biggest problem with fluorescent tubing is that the light that they give off is only useful for about a foot or so. That's why they're kept so close to your plants.
With the new high output lights such as the T5, fluorescent lights can be used until the plants are about 24 inches tall, which is just enough to grow a very short plant through to the flowering stage when you control your marijuana plant's growth through the vegetative stage.