Since Nevada legalized adult-use cannabis in 2016, growers in Las Vegas have consistently been proving that potent indoor strains of cannabis can be cultivated and nurtured in a harsh desert environment. Las Vegas is home to the first pioneers of desert greenhouse cannabis growing in the world. These pioneers include hybrid greenhouse projects, traditional greenhouse projects, and an outdoor-style, mesh-tent grow. All these operations are currently cultivating top-shelf cannabis in the Mojave.
The first outdoor desert cannabis cultivation operation in Nevada just finished harvesting its second crop. This operation utilizes a fully enclosed mesh tent with dirt floors and no lighting system. This kind of structure has a capital expenditure of around $17 per sq. ft. (most costs are specialized cannabis security needs) and can only do one or two crops a year with growing costs of around $150 per pound. The recent results have shown THC levels between 13-23 per cent, around 24 per cent total cannabinoid count, and total terpenes around 10-15 mg/g.
Hybrid Greenhouse Operations
As far as deserts go, the Mojave Desert is unusually dearth of vegetation beyond cacti and tumbleweed. It happens to be the most arid environment in North America. However, if you drive to the outskirts of Las Vegas towards the growing operations which supply the city with its latest and hottest commodity — cannabis — you may be surprised to see that plants can be grown anywhere with a little bit of creativity.
Traditional Greenhouse Operations
These designs are exhibiting THC levels historically around 14-24 per cent, with around 26 per cent total cannabinoid counts and terpene profiles that show promise around 12-18 mg/g. These grows have traditional greenhouse wet-pad and heating systems to combat the 115°F heat and 32°F-cold to control the environment properly. They also have the traditional door entrances and pad walls open to the outside. All these traditional structures are more than an hour drive from Las Vegas and are located over the third-largest aquifer in the US, so free water is clearly a large benefit which more than offsets any additional IPM needed deeper into the Mojave. They also require long drives and/or specialized housing for growers and employees.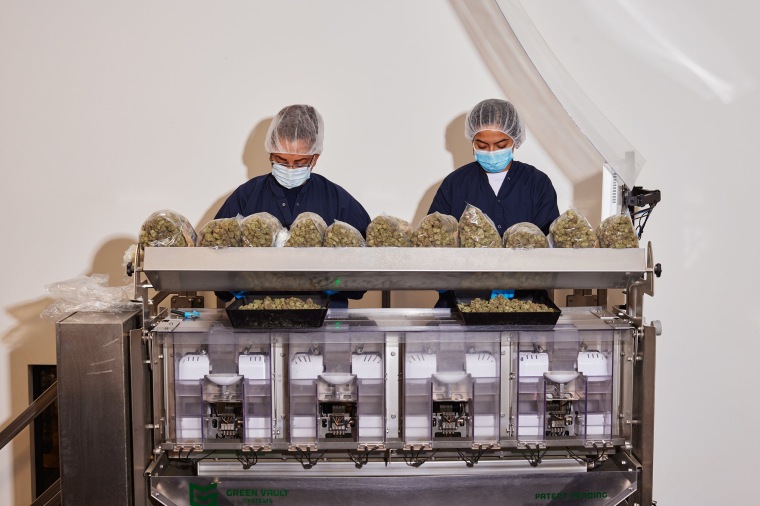 Business zones were established to quarantine large operations in an industrial section away from residents. Much of the land remained barren and untouched until companies with a little sense of adventure decided to break ground.
Only medical marijuana was legal in California at the time, but city officials decided to take a risk on what appeared to be a growing industry as states like Washington and Colorado legalized recreational cannabis. Adult-use recreational marijuana became legal in 2016.
The tax revenue has already helped to pay for a new City Hall, a library and roads, as well as more police officers. Housing developers eye the area as jobs attract more people to the desert. Residents also benefit from the boom — of about 29,000 residents, at least 2,300 work in the cannabis industry, Wilms said.
A city brought back from the brink
Deputy City Manager Doria Wilms said: "It's been incredible to see the transformation. We don't see it slowing down."
"Most people, when they think about the desert, they think they're going out in the middle of nowhere," Holcomb said. "It made sense that if you build it, they will come."
'Cannatourism' could be the future
In eight growing rooms inside Gold Flora's cultivation facility, insulated metal panels similar to those in walk-in coolers shield more than 9,000 cannabis plants from the unrelenting sun. Even without air conditioning, the building will never heat up beyond 80 degrees inside despite triple-digit temperatures outside, facilities manager Adam Yudka said. Plants are stored atop rolling benches that use an internal irrigation system to water crops individually.
Neighboring Palm Springs, with its rows of midcentury modern homes and golf courses, has already capitalized on the tourism side of cannabis. Retail stores and consumption sites are sprinkled among clothing stores and spas. Last month, the latest cannabis dispensary and lounge opened in an old bank building following $1 million of renovations. On Mother's Day, the Four Twenty Bank — a dispensary lounge, not a bank — offered all moms who visited free flowers, according to its website.