Most outdoor weed growers will either dig a hole and add fresh soil for the plant, or grow their weed in pots. This will allow you to better control the growing medium and the amount of nutrients your plants receive.
These are just some examples of amendments commonly used in different types of soils. Heavily amended soils will have long lists that break down all organic nutrients they contain. Some companies create soils that offer a great structure with base nutrients, but allow you to fill in the gaps as you desire.
Soil and other media for outdoor cannabis growing
Cannabis plants require a large amount of nutrients over their life cycle, mainly in the form of nitrogen, phosphorus, and potassium. How much you need to add to your plants will depend on the composition of your soil.
Sandy soil is easy to work, drains well, and warms quickly, but it doesn't hold nutrients well, especially in rainy environments. You'll want to dig large holes for your plants and add compost, peat moss, or coco coir, which will help bind the soil together.
Loam soils
It's crucial to have a good understanding of the climate in the area you're going to grow. Cannabis is highly adaptable to various conditions, but it is susceptible in extreme weather.
Beneficial insects, fungi, and bacteria can also be used to protect your plants from their parasitic or predatory counterparts. Jumping spiders, ladybugs, and other native, beneficial predatory insects can clear your crop of insects such as aphids and whiteflies. When sourcing beneficial insects, fungi, or bacteria, it's important to research those which are native to your region.
There are also many advantages and disadvantages of using clones. They can often be found at your local dispensary, are from a proven genetic lineage, and typically do well outdoors, making them the perfect choice for inexperienced growers. On the other hand, clones develop a fibrous root system, as opposed to the deep taproots that seeds develop. Fibrous root systems can reduce the plant's ability to deal with environmental stress and predatory insects.
Cannabis has been cultivated outdoors for thousands of years, but before you go putting a seedling in the ground, it's best to know how the process works and how to make the most of Mother Nature's gifts. You should also have some idea of how to handle those unwanted gifts you'd rather return — pests and weeds.
Outdoor cultivators take what Mother Nature gives them and turn it into the best possible harvest. Many cannabis consumers prefer marijuana grown outdoors under the full spectrum of natural sunlight. That unique spectrum creates a greater variance of cannabinoids and terpenes than artificial lighting.
Pest and weed control
Container gardens can be convenient as they can be moved around the garden to maximize sunlight or protect them from harsh conditions Photo by: Gina Coleman/Weedmaps
Container gardens can be convenient as plants can be moved around the garden to maximize sunlight or protect them from harsh conditions such as rain, heavy winds, or extreme temperatures.
Organic sources of nutrients include alfalfa meal, bone meal, kelp meal, bat guano, fish emulsion, dolomite, and earthworm castings. Each contains different ratios of nutrients that can be used for different phases of the plants' growth cycle.
Seeds vs. clones
If you live in a climate with exceptionally hot and sunny days, use shade cloth to prevent your plants from overheating. In cold areas, natural enclosures and cement or brick walls can be used to help retain any available heat and keep your plants warm.
Quality soil should be dark, rich in nutrients, and have a light and fluffy texture. The structure of your soil should be capable of retaining water but also allow for drainage of any excess. Organic potting soil blends from your local garden center will do just fine, but more advanced growers prefer to blend their own organic super soil from scratch. The soil itself should be slightly acidic with a pH of around 6. This can be tested with a soil pH meter or test kit.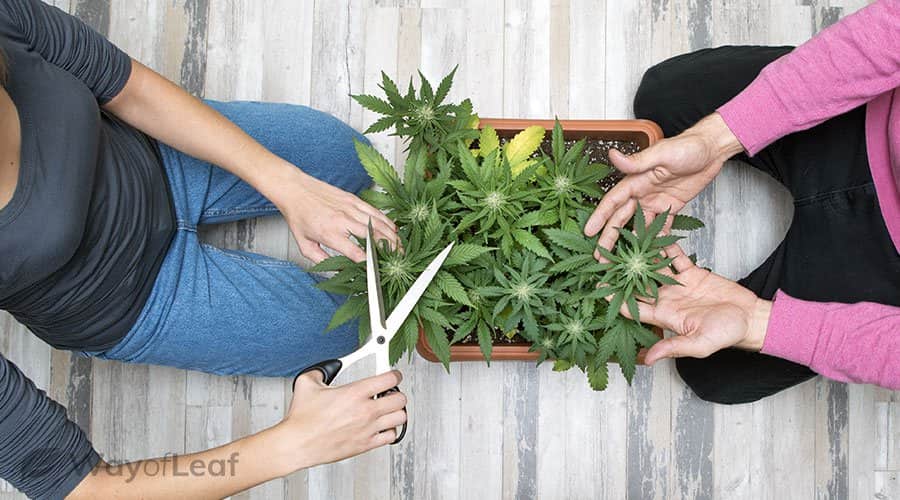 Lastly, make sure female plants are not exposed to males. Otherwise, pollination could occur – a process that decreases the quality of the harvest. If your strain begins flowering during a wet season, excess moisture exposure could prove troublesome. In this instance, find shelter for the plants to prevent mold and mildew growth.
You must be careful not to wait too long to harvest because marijuana plants suffer a decline in health once they have completed the flowering phase.
It may also be worth investing in wire cages to keep animals at bay. As already mentioned, some plants often grow over six feet tall. However, some plants, when grown outdoors, can become so tall that they resemble mini-skyscrapers. These plants can sometimes be over twelve feet in height, so make sure you plan for this.
The chief downside to growing from seed is that the outcome is less predictable than it is with clones. If you don't choose an inbred seed line, you could end up with a different plant to the one you expected. Also, cannabis seeds produce males and females. This means you have to sex your plants when they achieve sexual maturity. This process involves culling the male plants. You can avoid this issue by purchasing feminized seeds.
Step #9: Cut Your Cannabis Plants Carefully
Typically, seeds only begin to germinate when exposed to constant temperatures of 65 degrees Fahrenheit. Experts suggest keeping your plants indoors for up to four weeks before bringing them outside when the weather is more suitable.
It is best to maintain the temperature between 55-86 degrees Fahrenheit for as much of the growing cycle as possible. Marijuana plants can survive outside this range for short periods.
When choosing the right soil, bear in mind that it is made up primarily of clay, sand, and silt. Your plants require slightly acidic soil with organic matter that has been adequately drained. Therefore, you have to test the soil if you intend to plant your cannabis directly in the earth.
Step #10: Grow, Enjoy, Repeat!
Some people use a container garden instead of planting straight into the soil. If you opt for this, bear in mind that they dry out much faster than soil. Therefore, you may have to water your plants daily. Additional watering is also necessary for warm or windy conditions. To avoid overwatering, wait for the top inch of the soil to be dry before adding more. Invest in a soil moisture meter to make things easier.
Areas that are subject to high wind will need a wall or hedge to act as a windbreak. Then there is the small matter of privacy and security.