You have grown Greasy Runtz together with another variety? Please fill out our Strain VS. Strain direct comparisation form!
Our strain reviews are multilingual, searchable and can be very detailed – including data about the grow, aroma, effects and taste! Please upload your Greasy Runtz Review here to help the other seedfinder users!
Here you can find all info about Greasy Runtz from Exotic Genetix. If you are searching for information about Greasy Runtz from Exotic Genetix, check out our Basic Infos, Gallery or Lineage / Genealogy for this cannabis variety here at this page and follow the links to get even more information. If you have any personal experiences with growing or consuming this cannabis variety, please use the upload links to add them to the database!
Comparisons
Greasy Runtz is a mostly indica variety from Exotic Genetix and can be cultivated indoors (where the plants will need a flowering time of ±60 days ) and outdoors . Exotic Genetix' Greasy Runtz is a THC dominant variety and is/was only available as feminized seeds.
You've stumbled upon a Greasy Runtz related thread into a forum or growers community? Connect it here and enable othe users to find this information fast and easy!
User Reviews
You have experience with the medical qualities of Greasy Runtz? Sharing your information here maybe can help other people!
Do you know something more about Exotic Genetix' Greasy Runtz? Please help to make this database better and upload/connect your information here!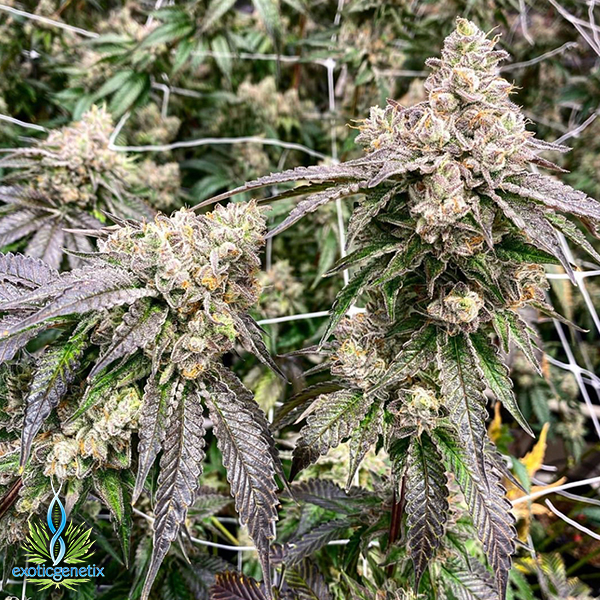 If you want to be notified when this product comes back into stock, please enter your email address below:
Please be aware that you will need to confirm your submission.
A verification email will be sent to you to confirm your email address.
If you have not recevied an email within a few minutes after your submission, please check your SPAM/Junk folders.
On the one hand Zkittlez, a variety that has surpassed all limits offering sweet and fruity flavours, with a terpenic profile like the sweeties that suggest its name. An incredible tropical flavours mixture that makes it a plant that must be cultivated to know its real potential. It produces a powerful psychedelic effect accompanied by a relaxing Indica feeling. A balanced hybrid between the Indica and Sativa worlds.
Runtz is a strain that stands out for its terpenic power. If we know the genetic lines that precede this variety we can understand the enormous potential of this cannabis hybrid.
On the other hand Gelato, a hybrid that has broken schemes. This plant called Italian ice cream has earned its name because of a terpenic profile that reminds us of a delicious and creamy ice cream with sweet and fruity notes with a slightly earthy background that impregnates our taste buds.
Grease Monkey is a sweet, earthy strain with strong skunky overtones. Created by Exotic Genetix, Grease Monkey is a cross of GG4 x Cookies and Cream. This strain saddles the consumer with a lazy, munchie-fueled body buzz that may soften the blow of chronic pain, nausea, and stress. While defined as a hybrid, this Grease Monkey's deep relaxation will naturally lead some consumers toward sleep, so mind your dosage.