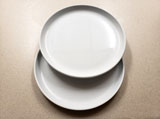 Two plates
Supplies
At this point, you may see some seedling leaves have already broken free of their shells. That's awesome. These seedlings often grow the fastest.
4.) Cover with 1 Sheet of Paper Towel
Seeds typically germinate in 1-3 days!
Using the paper towel method is easy and affordable for beginner growers. However, there are some disadvantages to using this method. In some cases, the seed shell will get stuck on the seed leaf. Using tweezers can help remove the shell from the stuck-on leaves. This should be a last-ditch method if after a few days the seed shell is still stuck on the leaves. Here's how to remove the seed:
Here are step-by-step instructions on how to germinate your seeds using this method:
A seed requires plenty of moisture to absorb, increase in size, and gradually break out of the shell. You know you've done the germination process right when a seedling emerges from the hard seed shell. This growth will be the basis of the roots and the part of the seedling that absorbs nutrients from the growing medium.
Starting off with a high-quality seed is critical. Avoid seeds that feel fresh and soft and look green. Mature seeds have a hard outer shell. However, they can get too old and mishandled and won't sprout as effectively. Before you get to the germination phase, it's important to store your seeds in a dark, dry, and cool space.
Troubleshooting Common Problems
Check out our beginner grower's guide to learn how to germinate seeds with the paper towel method. Every cannabis plant starts off as a tiny seed with the potential to grow huge yields and bountiful buds. If you want to start your garden on the right foot, the germination phase is critical to its future growth.
When your seedlings have sprouted long enough roots, you can gently use your hands or tweezers to remove the seeds from the paper towels and place them in your preferred growing medium. Some users place them inside Rapid Rooters to stimulate germination. Here's a guide on how to do so:
So, what is needed to get these seeds popping?
Maximize Your Root Growth
Are you ready to germinate your seeds? Here's exactly what you'll need:
Seeds About to Germinate by the Paper Towel Method