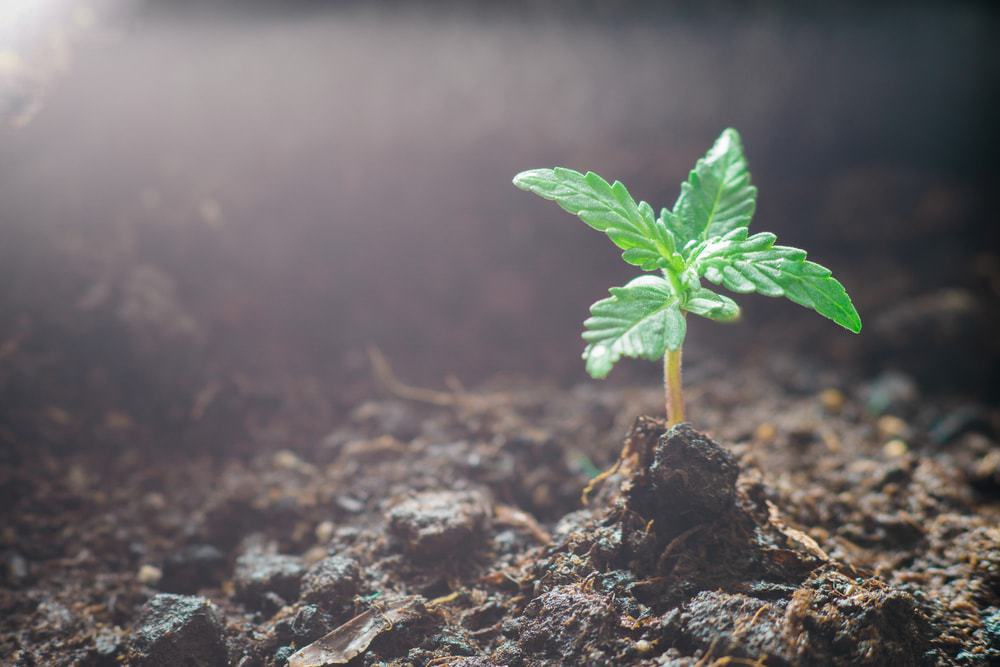 When cultivating cannabis indoors, there are two viable options: Growing in traditional soil or a hydroponic tray. Soil is typically recommended if you're growing indoors for the first time. It's cheaper, more straightforward, and more forgiving than an advanced hydroponic system. Let's take a closer look at each of the two options.
Lastly, some strains indeed require more calcium than others to produce robust, healthy nugs. Perform a little research on the particular strain you are growing. This process enables you to become more familiar with the kind of "food" it needs and prefers the most.
HID lights produce a substantial amount of heat. Therefore, proper use of air circulation and conditioning becomes vital. Some growers choose air-cooled fixtures to mechanically remove heat.
Step 3: Fresh Air is the Lifeblood of Healthy Cannabis Plants
Make sure that you have enough space to work in!
Lastly, consider using an RO filter as excess levels of chlorine and unfiltered minerals could harm the plants. You may want to choose a distilled option or at least filter it before adding it to your soil. Mineral-laden tap water can cause unwanted build-up in the cannabis root systems, which can lead to detrimental root disease.
Step 6: Choose a "Canna-tainer" (Container) to Grow Your Cannabis In
We also recommend investing in a pH meter to check on the quality of your water and soil regularly. If you're growing in soil, try to keep the pH between 6 and 7, with the sweet spot being 6.2-6.5. If you're growing hydroponically, 5.5 to 6.5 is an appropriate range with the sweet spot of 5.8-6.0.
While this is true to an extent, there is such a thing as "too much water." Overwatering your indoor cannabis plants can prove detrimental to their productivity, and potentially stunt or kill them!

After 55 to 60 days, growers begin paying close attention to their plants' trichomes — the small, bulbous fibers that develop around the flower of the female plant. "Those trichomes will turn from clear to amber," Lipton said. "They kind of look like red hairs. You know it's time to harvest when about 10 to 15 percent of the trichomes turn that color." On average, cannabis plants have a five- to seven-day window of peak harvest time.
Space: 3 x 3 x 5 feet, minimum. "The bigger the space, the better. With all the lights, closets get hot," Lipton said. That said, closets help growers control light pollution when the plant is in its flowering cycle — one of the main reasons home growers favor them over larger spaces, such as living rooms. "If you have a spare bedroom, or a basement even, you can just use that and close the door," Lipton said.
pH of Water: 6.3 to 6.7. "You'll need a meter that you can stick into your water and tell you the pH," Lipton said. "You want something between 6.3 to 6.7 pH for watering your plants. That sounds like pretty sophisticated stuff but it's really not. A lot of times your tap water will be 7.8. You can use what they call pH down. That's a crucial step."
Relative humidity: 30 to 45 percent. "If you live somewhere humid, you're probably going to want to buy a dehumidifier," said Lipton. "In Boulder, we sometimes have to add humidity." At home, that can be done with a reliable humidifier.
Harvest and cure.
"Growing cannabis in tight spaces is not my usual recommendation," said Stephen Lipton, the cultivation manager at The Farm Recreational Marijuana Dispensary, an award-winning recreational facility in Boulder, Colorado, specializing in what it calls "craft cannabis." At any given time, Lipton oversees close to 15,000 plants across seven different facilities in Boulder County. "If you have a really tight space and it gets too hot or too humid, you're going to have big trouble."
Temperature: 68 to 78 degrees Fahrenheit. "A tool you should always have is a little temperature gauge," Lipton said. "They call them hygrometers. They're cheap and tell you both the temperature and the humidity."
The last step involves curing the bud. "Curing is just as important as the growing process," Lipton added. "We do a slow cure, which means that it takes anywhere from three to six weeks depending on variety." Temperature and humidity play a large role during cure and must be maintained to ensure a great final product. "Our actual cure process is somewhat of a secret, so I cannot share the fine details," Lipton said. "But it's an art form and extremely crucial to our success." The reason growers cure bud after harvesting is that it creates a smoother smoke and increases its potency. Detailed recommendations for proper curing can be found online, here and here.
Find a healthy clone.
Though the 12-hour interval is fairly universal, knowing exactly when to induce flowering is less clear. For the home grower, it usually comes down to space; the longer one waits to trigger the flowering cycle, the taller their plant will be. A good rule of thumb: cannabis will only continue to grow 30 to 50 percent once the light source is reduced. If the plant is growing in a closet, growers should trigger the flowering cycle, understanding that there must be more than two feet of space between the canopy of the plant throughout the entirety of its life.
For some people, cannabis cultivation is a hobby. Others a life-long passion. But it's unique in its vast demographic appeal. "Everyone I know grows," Lipton said. "There are people in their 20s doing it. I know people in their 60s. It's a fun thing for people. You don't have to be afraid anymore." Here are Lipton's tips on growing your first plant.
Possibly the most exciting growth stage for cannabis is the flowering stage. Once your cannabis plants enter this stage, you can expect trichome -rich flowers and buds to form.
A good visual indicator that your crop is ready to harvest is the clarity of the trichomes. Once most cannabis trichomes start resembling a white cloudy color, you should start harvesting your cannabis flower.
Whether you're a first-time cultivator or have grown marijuana before, you'll need to ask yourself some key questions to better understand the weight of the task ahead of you.
Vegetation
To force a plant into the flowering stage, the light schedule that the plants are exposed to should be changed to 12 hours of light and 12 hours of uninterrupted darkness. Outdoors, the increasing darkness is a result of the departing summer season, and the reduction of available light allows the plants to enter the flowering stage.
After the cannabis flowers mature and develop to their full potential, the harvesting stage begins.
Once the seed is germinated, roots will continue to grow in a downward direction while small leaves begin to grow upward.
Flowering
Growers should be careful to not overwater the seedlings, which can drown them or stunt their growth. This stage can last from one to three weeks.
Aeroponic cultivation is not recommended for novice growers due to its high cost and delicate monitoring needs, though ambitious newbies with experience growing other plants using aeroponic systems may find success.