After writing a couple articles about the legal cannabis business in San Francisco, I was contacted by 1st Lady Of The West Coast . She is (for obvious reasons) not disclosing her name. But that should not preclude me from touting her Old School successes. She had the guts to contact me, that in itself is amazing. I respect her need for privacy and even I don't know her first, nor her last name. Nor would I ask twice, it's just not done. 'Nuff said. So when I was given this honor to tell her story, there wasn't any hesitation. I needed to do right by the universe, the cannabis family would be proud. And 1st Lady Of The West Coast would have fulfilled her goals. And what would that be? Being the fantastic person she is. I'm honored to be her friend. Thank you for allowing me the honor. And it's important to mention that the 1st Lady of the West Coast had major help in creating her strain from Dukeoferb e, who will also remain just Dukeoferb . Without his guidance there would be no 1st Lady of the West Coast Cannabis. It would not exist. Shout out to Mr. Dukeoferb . Thank you for your guidance and patience with us as we learn the path.
1st Lady: Back in 2009, I ended up meeting Joseph Rezene at Harborside in Oakland, CA. We hit it off as good friends and I told him I wanted to learn how to grow my own cannabis. He ended up giving me clones to grow at my cousin's and he would come by to give me lessons. I ended taking them back to him to help grow them one on one with him, I was determined to learn, and he taught me step-by-step and plus he had me read the "growing bible," as they call it, and I did a lot of research and studied to show him how serious I was about him teaching me how to grow my own cannabis. His help enabled me to move onto my own work so, ever since I've been growing my own cannabis and I thank him so much for his teaching and time. The main obstacle I see is just being a black woman in the Cannabis Industry as we are sorely underrepresented and poorly respected. However, I won't let my color or gender stop me from progressing in this business. Rather, I will prove myself so successful, I will break through the color and gender barriers in this industry and show the white men who think they own it that they don't, that competition is rife with people of color and women and they'd better respect us. We're coming and we're taking our places where we belong!
WB: Why Cannabis? Tell me about your passion for Cannabis. When did you first become aware of it?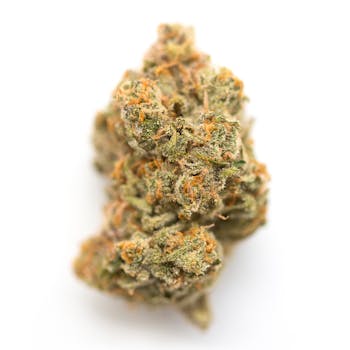 If you've smoked, dabbed, or otherwise enjoyed this strain, First Lady of the West Coast Kush, before let us know! Leave a review.
If you've smoked, dabbed, or otherwise enjoyed this strain, First Lady of the West Coast Kush, before let us know! Leave a review.
Ready to try this strain?
Shop First Lady of the West Coast Kush products near you
Get perks like local deals, new strain spotlights, and a free jar of CBD:THC gummies when you sign up ($59 value)!
Buy First Lady of the West Coast Kush weed near you
By providing us with your email address, you agree to Leafly's privacy policy and terms & conditions.
My strain lines are:
First Lady of The West Coast Kush aka FlotwcKush: She is a Sativa dominant Hybrid: 60% Sativa and 40% Indica- full of trichomes.
BlackGirlMagicOG: She is an Indica dominant hybrid: 70% Indica and 30% Sativa- her terpene profile is high in Myrcene, A-Pinene, Limonene, Caryophyllene.
Shirley Ross OG: is a new strain and we are currently working on testing (more to come). When I consume, she feels like an Indica dominant. She was created in the dedication of my grandmother who passed away July 25 2019.
DecemberNightsOG is a new strain also in the process of being tested (more to come). When consumed, I get Indica dominant, with a fruity loop smell and fruit taste. I'm very excited about this line that my Breeder gifted me with. and that my Godson named.
We currently working on the WittyOGKush line, BlackJoy line, and a couple of other new lines."
Beating the odds, 1st Lady did something major in 2016- the birth of her first strain: Flotwckush (First Lady of The West Coast Kush). What followed- CANNA BOSS moves- a full line:, Black Girl Magic OG, December Nights OG, and Shirley Ross OG aka SRG.
Born and raised in Oakland, one of America's most impacted cities when discussing the war on drugs:
You are the growing hands behind Herb of Life Cultivation, LLC, and have an exclusive line of strains- can you tell me about them?
Interview slightly edited for clarity
Musician and Cultivator- 1st Lady of The West Coast
"Yes, I am the growing hands, the Founder, and CEO of HERBOLC, but wear most hats- for 2 reasons. I believe that it's important to learn all roles within your company and because HERBOLC has to have the right Cannabis family.