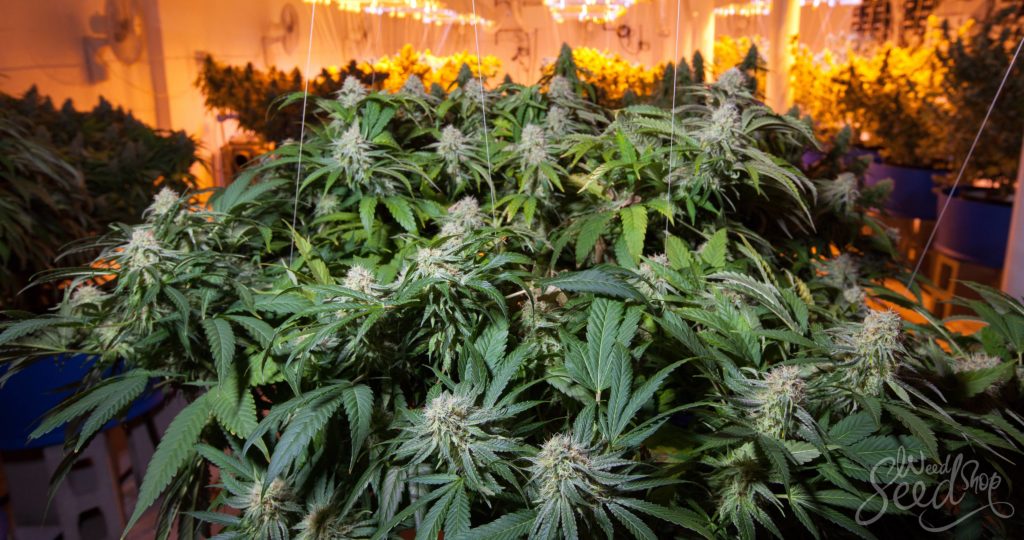 Now, technically, you can flower your plants as soon as they are seedlings and skip the vegetative state entirely. It will make your seedlings start producing buds right away.
Let's take a look at the Northern Lights strain, which has a total flowering time of about 8 weeks. If you turned your seedlings straight over to flowering from the moment of germination, you'd be harvesting in less than 12 weeks.
Depending on how impatient you are, you could stagger your growing operation so that while you have flowering plants, you always have vegetating plants. This would result in a possible harvest every 60 days. But in this article, we'll be focusing on techniques for speeding up the growing process of a single grow.
The time between seed and harvest will depend on the strain you are growing, along with several other factors.
Start flowering ASAP
If you're growing your weed outdoors, then unfortunately, you're stuck with the rhythms of nature. There's no real trick out of that one.
Growing weed can seem kind of tedious when you think about the fact that it can take up to 5 months to enjoy your hard work. Speeding up the process doesn't come without some sort of compromise on quality or yield, but it absolutely can be done. If you absolutely must have your buds faster, this article will tell you everything you need to know.
This might sound tempting to try, but you really do compromise on your yield. Your plant needs to have enough stems producing buds for a worth-wile yield. And a seedling doesn't have many stems yet.
When you are growing cannabis from a regular seed, you get to choose when to flip from vegetation to flowering. A grower generally does this by changing the lighting schedule. When the number of light hours decreases, the plant begins to flower and produce buds. Depending on the strain, this could be anywhere from 8-12 weeks.
If you're waiting eagerly for a delicious harvest of buds, then the average timeframe of 3-4 months for growing marijuana can seem like a lifetime. It's easy to grow impatient with marijuana's long growing time and you might be wondering how to speed things along.
For the first month of flowering, your marijuana plants need a lot of nutrients. After that, they need less and less. Reduce the nutrients you give them gradually, starting around the halfway mark of flowering.
If you know someone who is growing marijuana plants and can hook you up with seeds or clones, lucky you! You can skip this section. If you have clones, head here to learn how to get clones to root faster.
For the US, we prefer ILGM, due to their germination guarantee and the free shipping. Crop King has a guarantee, too, but they only guarantee that 80% of the seeds will germinate. They also charge for shipping, with rates in the US being the lowest at $20 and international rates as high as $40.
Harvesting Your Weed Plants
That said, a jeweler's loupe like this one is generally much cheaper. I'd pay more and go with a full microscope.
Harvest when 50 to 75% of the hairs have darkened for maximum THC levels. Wait until 80 to 90 % have darkened for some of the THC to turn into CBN, which is more relaxing and gives you that "fuse-you-to-the-couch", anti-anxiety effect.
Once you have the space, you want to get it ready for growing marijuana indoors. The easiest way to do this is to get a grow tent. You can find tons of inexpensive tents on Amazon and these cheap tents are good enough for most of us.
5. Ventilation
You have complete control over everything when growing weed indoors, which allows you to really maximize rapid growth and huge yields with incredible potency.
If not, the seedling will suffer some nutrient burn, but it is not really that serious. I'd probably mix it, to avoid the nutrient burn, but it will not cause permanent damage to your plants.