Pictures speak louder than words! Upload your "Ethos Apex" Photos here and help other growers to get a better impression of this variety.
You have grown Ethos Apex together with another variety? Please fill out our Strain VS. Strain direct comparisation form!
Ethos Genetics Ethos Apex R1 is a cannabis plant created from a cross between two powerful genetics such as Mandarin Cookies and Lillac Diesel #10. The hybrid obtained is a highly productive variety that provides a very powerful relaxing effect, an abundant bud production and a stunning and explosive terpenes profile.
Comparisons
Ethos Apex from Ethos Genetics is available as regular and feminized seeds. In 1 seedbanks, we found 3 offers between EUR 60.00 for 8 regular seeds and EUR 100.00 for 17 regular seeds. If you are looking to buy Ethos Apex Cannabis Seeds from Ethos Genetics somewhere – have a look to our Ethos Apex Price Comparison page with all current offers from all the connected seedbanks and shops – or visit one of the following tested, trustworthy and recommended seed-shops directly to check out their current Ethos Apex offers: Alchimia Grow Shop.
Do you know something more about Ethos Genetics' Ethos Apex? Please help to make this database better and upload/connect your information here!
Ethos Genetics Ethos Apex info:
Type: Feminised cannabis seed
Genetics: Mandarin Cookies x Lillac Diesel 10
Indica/Sativa hybrid
Indoor flowering: 9 weeks
Outdoor harvest: October
Indoor yield: 600g per m2
Outdoor yield: 1000g per plant
THC: High
CBD: 1-2%
CBG: 1-2%
Total cannabinoids: 30%
User Reviews
Ethos Genetics differentiates this variety into two phenotypes. The first phenotype with more Sativa character has a more lemony aroma and flavour. And the second phenotype, more productive, offers a tropical taste with grapefruit, orange and fuel. It can be expected from both phenotypes plants of great calibre, power and flavour.
You've stumbled upon a Ethos Apex related thread into a forum or growers community? Connect it here and enable othe users to find this information fast and easy!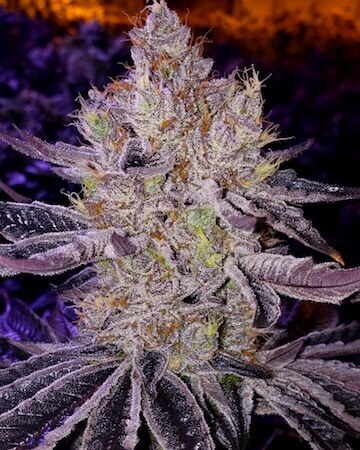 Alchimia is glad to present Ethos Apex F1 by Ethos Genetics, now available in our regular cannabis seeds catalogue. A variety of strong effects, complex terpenes profile and great production. Very suitable for beginner growers.
Ethos Apex F1, cannabis with happy and giggly effects
It is a cross between Mandarin Cookies x Lilac Diesel Bx3, resulting in an easy to cultivate plant with a great growth vigour. It adapts to all types of cultivation, being very suitable for beginners. Ethos Apex F1 shows a medium internodal distance, producing very large and dense flowers, a great "bag appeal".
Ethos Apex F1, a complex terpenes profile
Ethos Apex F1 presents a complex terpenes profile, jam, berries, biscuit, citric, hashish, chemicals and damp earth with a petrol background.
Grandpa's Stash #5 x Grandpa's Stash #12
Lineage: Super Skunk, Afghan Kush, OG Kush
• Flower Morphology: Medium
Grandpa's Stash Multipack – COMING SOON
Grows like a champ. Her flowers grow in solid chunks with medium-long internodes. High calyx-to-leaf ratio allows this fairly tall plant to bud heavily all the way down her branches. She works best if she's topped after the first large set of fan leaves. She may go vertical and need light training; excellent in trellises. She has a distinct OG pheno that's heavy in gas, sour and pine. The others mix between the sweeter strawberry
or the dry grape, all are rich and complex. Phenomenal extraction Indoor or outdoor.
Indoor and Outdoor: Massive!
Crescendo Rbx1
Terpenes: A complex variety of sandalwood, musky orange incense with sweet pine and skunk.