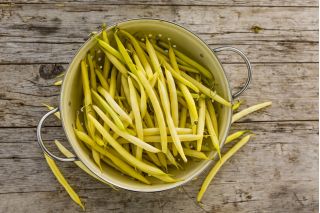 Stage one begins with a careful selection of the suppliers. Than we proceed with controlling their crops, foreign producers are not excluded from the quality control process. Plants are checked at every stage of their development: when they start to grow, during blooming and when they start bearing fruit (seeds). At this stage the most important thing is to ensure proper spacing of the plants. Thanks to that obtaining the desired morphological characteristics of each particular species or variety, such as colour, height and shape, can be ensured.
All of the seeds sold in our shop come from the best producers from across the European Union. Thanks to a long-standing cooperation with them we were able to develop the most adequate storing and dispatch conditions, guaranteeing that you always receive fresh and carefully tested batches of seeds. Exclusion of the middlemen from the whole process not only makes it possible for us to avoid sending out-of-date seeds that might have been lying too long on a warehouse shelf, but also ensures the most attractive price for top quality products.
All four stages combined allow us to state with confidence that the seeds we deliver comply with the highest standards and have completed all required control stages with flying colours.
Among those awards there were: TOP INNOVATION (June 2015), GOLD MEDAL AT THE POZNAN INTERNATIONAL FAIR (2015), CONSUMER QUALITY LEADER (2014), FARMER OF THE YEAR (2014).
Where do our seeds come from?
Each package contains 48 g of "Elektra" yellow, dwarf French bean seeds. Growing instructions and the sow-by date have been included in the product information.
All seeds we sell are subject to a multi-level quality control checks and only then are carefully packed and dispatched. Our products have been awarded numerous certificates and comply with the highest standards of the European Union. Our employees are experienced gardeners who are more than happy to answer your every question.
Most of our seeds, with the exception of our retail packets, are sent to you in moisture resistant re-closable bags. Each bag is sized for the amount of seed inside and can keep the seed safe year after year with proper storage.
You must be logged in to post a review.
You can be the first to know about new products, discounts and news. Your info is never sold or shared.
El Gordo F1 Hybrid Melon Seeds
Walk-ins: Monday-Friday
9:00 am-4:30 pm
There are no reviews yet.
Double Dew PMT F1 Hybrid Melon Seeds
(Western Shipper)
700-900 seeds/oz.; 3 lbs./acre. 10 days, 75-80°F.
Start early indoors or direct seed.
*Brix is a measure of sweetness.
Free Garden Seed Catalog