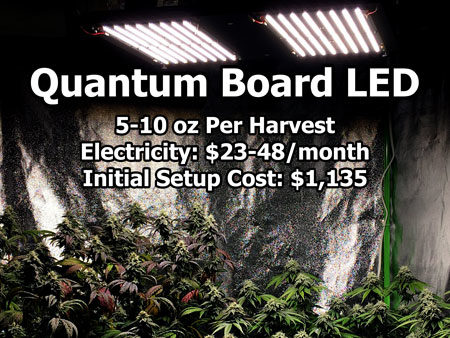 Average Yield: 1-5 oz Per Harvest
Over the years we've had lots of people request "starter" shopping lists for new growers – it can be frustrating trying to figure out exactly what supplies you need to start growing cannabis indoors! So today I decided to make a few comprehensive shopping lists for common setups that include everything from nutrients to grow lights to rope ratchets. I'll even tell you what yields, electricity cost and cost/ounce to expect with each setup.
CFL Grow Lights
Average Electricity Cost: $21/month
These Cannabis Growing Setup Examples Assume You're Starting From Scratch and Don't Plan to DIY Anything
Although there is a larger size MH/HPS grow light available (1000W), at that size it starts going outside the scope of a "hobbyist" grower as far as ease and yields. In addition to needing a lot of extra cooling, a 1000W HPS grow light is less efficient compared to a 600W grow light (as far as how much light is put out for electricity used). I think most hobbyist growers would be happier with a 600W, or even two 600W lights, over a 1000W.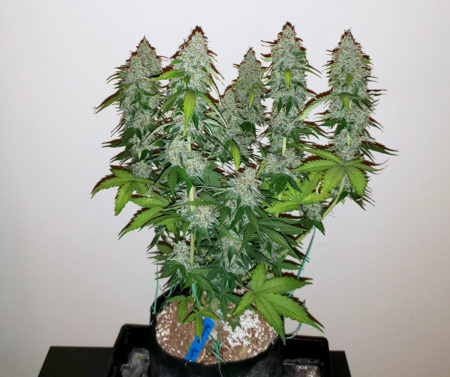 I first harvested the Auto Amnesia (absolutely love this strain every time I grow it)
This is a good harvest but does show what's possible for growers who follow all the steps in this article including the optional plant training to create multiple main buds instead of just one.
Glossary of Most Important Terms When Shopping for Seeds or Clones
Next was the Gorilla Glue Auto plant. I've never been happy with this strain and I wouldn't recommend it. Bud effects and smell are good, but plants grow weird and buds are ugly and airy. Two other examples of Gorilla Glue Auto plants I grew for comparison.
4.) Flowering Stage – Buds Start Growing!
What about buying seeds?
Looking for auto-flowering seed recommendations?
Then get your plant pots ready (or set up your hydroponic reservoir). If you plan on setting up an exhaust to remove heat and/or get rid of smells, now is the time. A venting system can be as simple as adding a fan pointing out.
2.) Germinate Your Seeds
There's nothing wrong with letting plants grow naturally, especially for your first few grows. But if you plan to keep growing inside under grow lights, plant training is important to achieving the best yields.
The THC Bomb Auto plant made fat sticky buds, as usual