Frisian Duck is a cross of Frisian Dew and a strain known as Duck's Foot on account of its unusual duck-foot-shaped leaves. It makes a great strain for growing outdoors in close proximity to neighbours as it does not look like a traditional cannabis leaf at all.
Frisian Duck is an indica/sativa strain that doesn't really look much like cannabis until the last few weeks of flowering when its buds develop and some of its upper leaves take on a more traditional cannabis leaf form. Others may just twist but this is a natural quirk and is nothing to be worried about. It grows in a Christmas tree structure often with beautiful purple shades in evidence during flowering. Indoor plants can grow to a height of 150 cm. while those grown outdoors in the ground can reach 250 cm. Yields are very good and harvest is after 8 weeks flowering or in late September/early October outdoors in the northern hemisphere.
It is a very robust and stealthy plant and will be popular just for those reasons alone but there is more to this strain than funny-shaped leaves. Depending on grower skill and conditions Frisian Duck can produce up to 20% THC with less than 1% CBD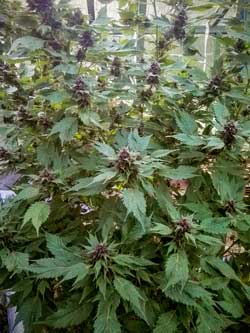 This Frisian Duck plant was grown outdoors in a greenhouse. More than half of Frisian Duck plants grow bright purple buds!
Dr. Grinspoon grows buds that don't stack on top of each other like standard cannabis plant
Frisian Duck is based on the famous Frisian Dew strain which also produces purple buds and has been bred for generations specifically for growing outdoors. The Frisian genes thrive under sunlight, and buds are resistant to bugs and mold!
Here are examples of the legendary Ducksfoot strain (the original). These plants don't look like cannabis at first glance!
Get Duck Auto by Dutch Passion
An autoflowering version of Frisian Duck, again by Dutch Passion. Dutch Passion is one of my favorite auto-flowering breeders, so this comes highly recommended!
Frisian Duck plants react really well to growing in a living soil that's been composted and amended with slow release organic ingredients.
If your grow room is not spacious, you'll have to resort to periodic pruning to prevent overcrowding. Be liberal in supplying nutrients.
The plants grow tall enough and branch out in all directions. So, you need to have ample space while growing indoors.
The duck foot breed is a gormandizer, and so you need to be generous in feeding the plants. Heavy watering should be restricted to specific stages, especially while planting the seeds, flowering period and a week before harvesting.
Coupon:
owl20off – 20% off
Physiological
Owing to a mild THC level, the effects are cerebrally stimulating that makes you ecstatic but do not immobilize you. Ducksfoot is ideal for daytime smoking.
Free shipping
Delivery Time: 10-12 days
Ducksfoot is a marijuana strain that develops ideally if grown in an outdoor environment that is sunny, warm, and dry. Indoors, the saplings develop fully in about 7-8 weeks at the end of which you can expect to pick up 250-350g of buds from every sq. Meter of space. Outdoors, the plants' roots get firmly implanted in the soil to promote holistic growth and development with large and broad branches. If grown in suitable climes, every plant yields about 200g of buds.
Grow techniques
Free shipping
Delivery Time: 10-12 days
Coupon:
OWLREV – 10% OFF