This post was most recently updated on March 26, 2021.
A grow room fan is placed inside the grow room to create air movement above the canopy level, this not only allows the plants to cool down but also sways the plants around, promoting stronger branching that will be able to support the heavy buds that will develop throughout the flowering stage.
When building your own cannabis indoor grow room, make sure you're taking the appropriate measure so it's solid, steady, and can support the growing equipment and you'll have a fully functional grow room while spending way less than buying one at a grow shop.
When flowering, you need to provide a 12/12 light cycle, if there is a source of light near your grow room when the lights are turned off, that light might get in and stress your plants, making them revegetate or becoming a hermaphrodite.
7. Light fixture
By doing this you keep the wood dry and avoid rotting (keeping mold away from your grow room). It will also make it easier to clean and you won't have to worry about water leaking to your floor.
If you fail to keep air inside, your exhaust fan won't work properly, it won't keep the cannabis smell contained and it will be easier to get bugs.
Enzo Schillaci
Prevents mold and bugs
To start building your own indoor growing space you'll need some basic materials and tools, some you might already have at home. You'll need:
Unfortunately, you cannot make them at home (unless you have experience with electronics), so you'll have to buy them.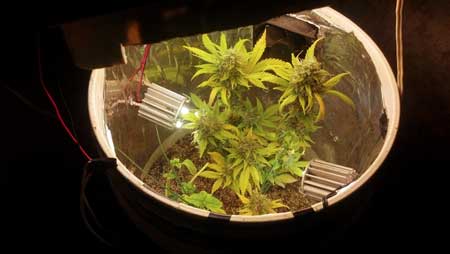 Ultra Small, Cheap & Stealthy: DIY Space Bucket
Learn from the best!
Example of Metal Halide (MH) Grow Lights in Action
Used during the vegetative stage