Strain Characteristics: It is highly resistant and solid, which makes her suitable for growing both indoors and outdoors in all climates. It is not afraid of wet weather or strong wind. Compared to other varieties, it grows quite tall. We recommend it particularly to those who grow their plants outdoors or in a high growing room. It is able to produce as much as 550-650g/m2 while growing closely together in the Sea of ​​Green. It is highly efficient and achieves satisfactory results after only 7-9 weeks of flowering! A great variety for commercial growers because she guarantees pure profit! It is easy to grow and it is perfect for training to increase its yield. Her THC level ranges from 16 to 20%.
Genetics: It was created by crossing Blueberry with Haze # 1, known to everyone for its unique flavor. We have managed to create a sativa-dominant hybrid that has inherited all the best from its parents. It is highly resistant, easy to grow, does not require a lot of maintenance and gives off an unforgettable, sweet berry flavor!
Experiencing the strain: Smoking a joint with Blue Dream is reminiscent of an exotic beach at sunset and blue waves gently caressing your feet. This variety guarantees complete relaxation, interspersed with the feeling of happiness and euphoria! Its name did not come from nowhere! It does not cause unwanted side effects such as anxiety or feeling of tiredness. It gives off a truly unique aroma that is addictive after the first breath. Be ready for the berry sweetness that will fill up your mouth and make you fall in love endlessly. Blue Dream Feminized is a must have for every connoisseur of the best flavors!
Blue Dream Feminized is a strain that checks all the boxes; it has an amazing berry flavor, short flowering time, is highly productive, and her THC level reaches up to 20%! Get ready for a real power plant!
What makes this strain so great: Nothing is said to be perfect, but Blue Dream Feminized is the exception. It is an amazing combination of taste, powerful effect and efficiency. It is highly resistant and solid, has a short flowering time and does not require a lot of maintenance.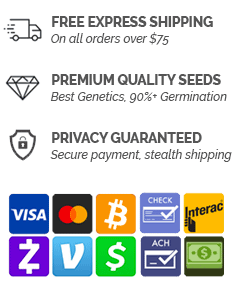 The nugs are long and and dense, with deep blue hues and amber hairs, plus an abundance of milky white trichomes. Under the right conditions, her fan leaves will turn a lovely shade of dark purple towards the end of flowering. This tends to happen more when grown outdoors, and the temperatures start to drop in the fall.
The delicious flavors of blueberry and sugar are long lasting and stay in the air and on your tongue long after the smoke has gone. Blue Dream is a rich and rewarding strain that delivers stellar flavor and buzzy cerebral high.
Novice and veteran smokers alike enjoy the level effects of Blue Dream marijuana strain. Blue Dream's high begins with a cerebral rush which takes you gently into a calm euphoria. Enjoy this through any jam-packed schedule as it brings with it motivation and heightened focus. As the high builds you fall into an ultra-relaxed state, leaving you feeling hazy and totally calm. This numbing sensation will find you pain-free and ready for any task. Users describe the Blue Dream high as having an immediate onset of an uplifting cerebral head high. It leaves you completely motivated and focused with waves of creative energy that hit quickly and hard. This is accompanied by a mellow relaxing body high that leaves you warmed, numb, and completely pain free.
Appearance
Blue Dream strain is a sativa-dominant hybrid from California, that has achieved legendary status among West Coast cannabis strains. With a sweet berry aroma redolent of its Blueberry parent, Blue Dream delivers swift symptom relief without the heavy sedative effects.
It first made a name for itself in the medical community, however, no one knew who made it. Most people think it was bred in Santa Cruz, CA. Eventually, the strain caught the attention of legendary breeder DJ Short, who then worked hard to give us the version we have today.
Flavours & Aroma
With a sweet berry aroma redolent of its Blueberry parent, Blue Dream delivers swift symptom relief without heavy sedative effects. This makes Blue Dream a popular daytime medicine for patients treating pain, depression, nausea, and other ailments requiring a high THC strain. The plethora of positive Blue Dream effects is endless. Users who suffer from anxiety disorders are not recommended to use this strain as it tends to get ahead of you quickly and could agitate pre-existing conditions. However, because it is super potent it does have extremely beneficial elements for patients who suffer from chronic fatigue, depression, and lack of appetite.
THC levels are at a respectable 22%, with very low CBD and CBN levels below 1%. This a stellar medicinal strain for treating a myriad of ailments.
Most users claim that Blue Dream offers an up-front taste of ripe blueberries, vanilla, and even underlying spice.
Outdoors, Blue Dream cannabis seeds can blow past 6-feet, so just make sure your neighbors don't mind.
Considering Blue Dream seeds were born and bred in the Mediterranean climate of California, then you'll want to do your best to mimic these conditions in your grow space.
Dominant Terpenes Found in Blue Dream Seeds:
However, Blue Dream seeds are not resistant to spider mites. Spider mites are the bane of all cannabis cultivators, so make sure that you protect your crop from these miniature invaders.
When grown indoors, Blue Dream feminized seeds are ready for a bumper-crop harvest in as little as 8-weeks. However, the average time that Blue Dream takes to flower is 9-weeks. Depending on your phenotype, climate, feeding schedule, and more, your Blue Dream seeds will finish flowering within 9-10-weeks.
Ultimately, Blue Dream is the ultimate cannabis strain to feel as though you're bathing under the bright California sun. It provides unparalleled levels of relaxation and euphoria that have led many to believe that it's one of the best cannabis strains of all time.
Strain Description and Properties
If your climate isn't similar to that of sunny California, then you may need to incorporate a greenhouse or ensure that you plant your Blue Dream seeds outdoors after the last frost occurs.
Blue Dream's terpene and THC content join forces to create unforgettable effects that will leave your body feeling utterly relaxed while giving your mind a creative boost. Although it's sativa-dominant, the indica side offers a deep sense of relaxation that isn't a "day ender."