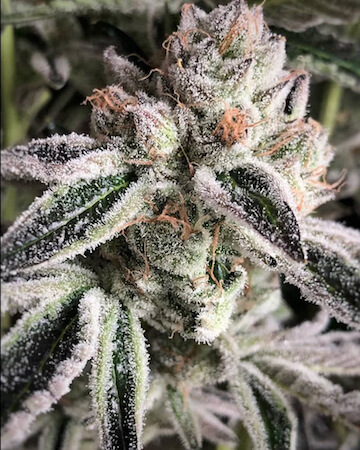 We are glad to present Crescendo RBX1 by Ethos Genetics seed bank, a feminized poly-hybrid cannabis plant. It is a cross between (Chem D x i95 x Mandarin Cookies) x Headband x i95, different varieties as powerful as they are delicious.
Crescendo RBX1 cultivation
Cultivated outdoors, Crescendo RXB1 can grow to a large size and offer a high production as long as it is provided as many sunlight hours as possible, good substrate amount and balanced nutrition. It is ready for harvest in October with a yield that can easily exceed 1000g per plant.
Crescendo RBX1: Power, flavour, aroma and a high production
Cultivated indoors, this variety will at least double in size after the change to the flowering photoperiod. This pronounced stretching develops long branches that produce a long column of tight, compact buds that are very bright due to the large resin amount. It is certainly an ideal variety for resin extractions fans. Crescendo RBX1 has a flowering period of 8-9 weeks with an abundant yield of more than 500g per m2.
Ethos Genetics Crescendo RBXV2 info:
Type: Feminised cannabis seed
Genetics: Crescendo #7 x Mandarin Cookies #17
Indica/Sativa hybrid
Indoor flowering: 9 weeks
Outdoor harvest: October
Indoor yield: >600g per m2
Outdoor yield: >1000g per plant
THC: 25 to 30%
Its flowering stage is about 8 to 9 weeks, producing an abundant yield of big and compact buds, both in indoor and outdoor cultivation. It produces a large amount of trichomes that accumulates in their buds providing a whitish appearance.
Map of the Crescendo Descendants
Pictures speak louder than words! Upload your "Crescendo" Photos here and help other growers to get a better impression of this variety.
You have grown Crescendo together with another variety? Please fill out our Strain VS. Strain direct comparisation form!
Crescendo Lineage / Genealogy
The aromas and flavours are a complex mixture of pungent earth, fat and Chem with a citric note that stands out from the rest.
Father: Headband x i95
Only logged in customers who have purchased this product may leave a review.
Reviews
5 or 10 Feminized Seeds
HarleSin
Pheno Hut Seed Bank encourages all customers to follow the laws set forth by their Country, State / Province and local municipalities.