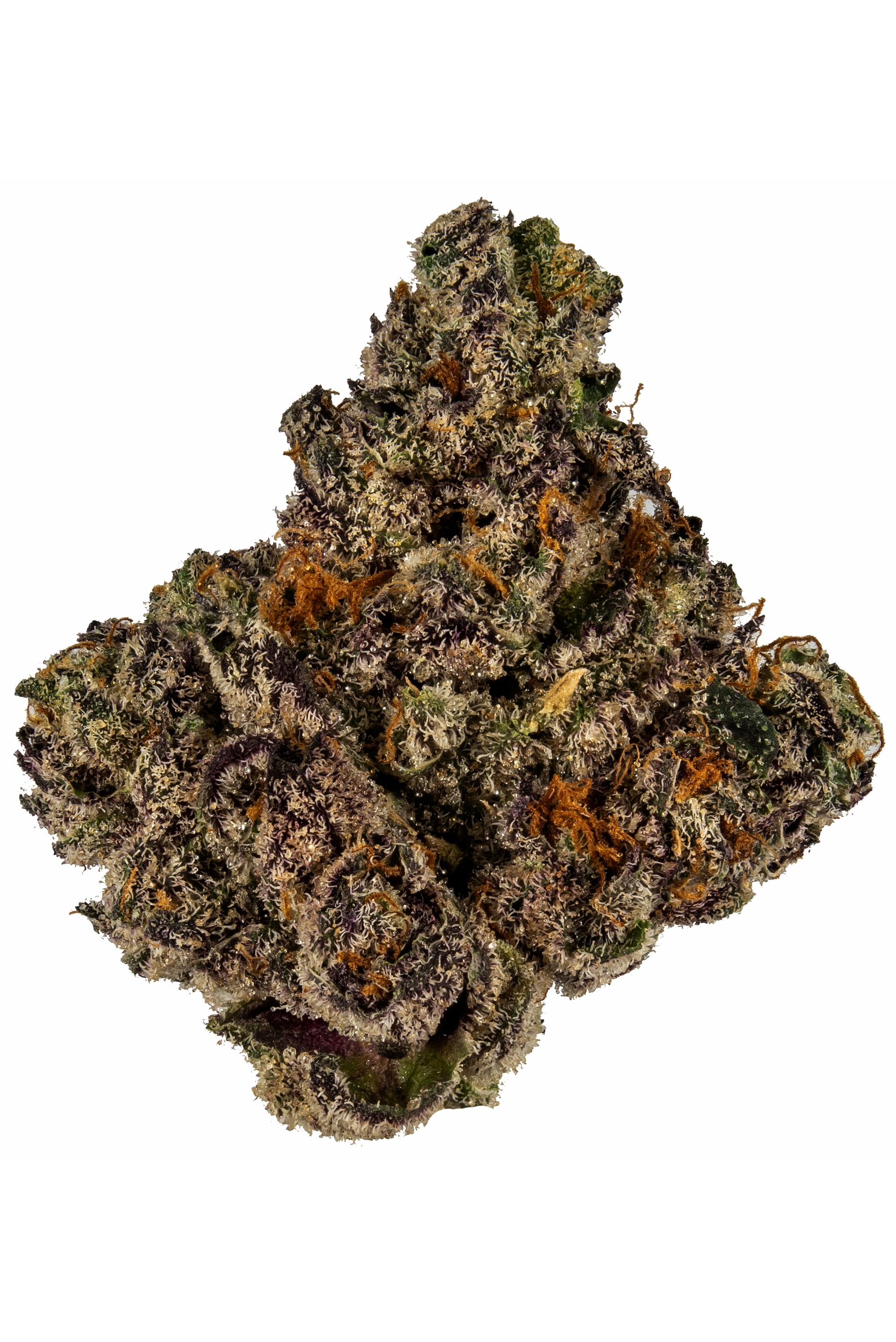 The scents and smells of Cookie Face are reflective of its name and lineage. When you open a container full of this strain, you'll indulge in a sweet and almost berry-like scent with hints of vanilla that might remind you of raisin cookies. Its buds might also remind you of raisons as they're covered in hues of violets that can catch your eye from across the room.
Cookie Face is a hybrid strain created by crossing Do-Si-Dos and the popular GSC.
Some of its reviewers share that they've enjoyed this strain for its potential to increase mental focus while it frees them from physical tension and pain. Some have noted that it remains easy to get tasks done despite the physical relaxation, and they feel that their creativity is boosted. Others have even called Cookie Face a "heavy sativa" since it keeps the mind sharp and body in a perpetual state of relaxation.
THC levels tend to average in the low to mid 20's while CBD levels remain below 1%.
Strong when entering, with bitter touches, and pleasant to taste in your mouth, you will always ask for a little more.
Powerful fragrance, intense with a bitter touch, like freshly roasted coffee.
The mystical super cookie, get ready for the big trip. Genetics U.S.A.
Sedative, relaxing and very long-lasting. Very pleasant body and mental sensation, long-lasting, a true mystical pleasure.
A fantastic original Girl Scout Cookie clone arrived from the United States, after a long selection work, we got a very strong and stable strain, so we did not hesitate to cross it with an equally strong variety. We are talking about our beloved GMK by Gordo Master, a kush that did not leave anyone indifferent and that is a true winner. The result is a strain that will give you a new mind and body sensation. A medium-sized, strong and robust plant. Its incredible ramifications are filled with compact, very resinous flowers with incredible mystical potential. Its effect is very pleasant and long-lasting, but strong, although yes, nothing can erase a smile on your face.