Our strain reviews are multilingual, searchable and can be very detailed – including data about the grow, aroma, effects and taste! Please upload your Conspiracy Kush Review here to help the other seedfinder users!
Height: Short to Medium
Yield: Medium
Recommended for Indoor and Outdoor.
Best way to grow: Top once. Get plant to almost the desired height because it typically does not have a large stretch.
Harvest: 55-60 days
Sat/Ind: 30/70
Hybrid: Obama Kush x Space Queen
High Type: Stoney, euphoric head high that you can feel creeping in your face within minutes. Great night time smoke for relaxing and getting you ready for bed. For the everyday kush smoker that likes to get high this one is for you.
Taste/Aroma: Phenotypes range vastly in taste, grabbing characteristics from all parent plants combined. Hidden within, you will find that a fruity funk will be dominate, but in that fruit mix you will also discover a lemony musk, cherry drops, with an under tone of an OG funk. The taste is a heavy fruit salad with an earthy popery exhale.
Here you can find all info about Conspiracy Kush from SubCool's The Dank. If you are searching for information about Conspiracy Kush from SubCool's The Dank, check out our Basic Infos, Gallery, Shop-Finder and Price Comparison, Lineage / Genealogy or Hybrids / Crossbreeds for this cannabis variety here at this page and follow the links to get even more information. If you have any personal experiences with growing or consuming this cannabis variety, please use the upload links to add them to the database!
You have grown Conspiracy Kush together with another variety? Please fill out our Strain VS. Strain direct comparisation form!
User Reviews
Pictures speak louder than words! Upload your "Conspiracy Kush" Photos here and help other growers to get a better impression of this variety.
Conspiracy Kush from SubCool's The Dank is available only as regular seeds. Feminized seeds are not available at the moment. In 2 seedbanks, we found 6 offers between EUR 56.10 for 5 regular seeds and EUR 392.70 for 40 regular seeds. If you are looking to buy Conspiracy Kush Cannabis Seeds from SubCool's The Dank somewhere – have a look to our Conspiracy Kush Price Comparison page with all current offers from all the connected seedbanks and shops – or visit one of the following tested, trustworthy and recommended seed-shops directly to check out their current Conspiracy Kush offers: Cannapot Hanfshop and Oaseeds.
The main difference between phenotypes is the variations of colors ranging from violets to dark purples with a heavily frosted bud structure that can have pink undertones.
Map of the Conspiracy Kush Family Tree
Here you see the latest Conspiracy Kush photos, uploaded from our users! Altogether we've collected 4 pictures from SubCools Conspiracy Kush, check out our Conspiracy Kush gallery to view them all.
You've stumbled upon a Conspiracy Kush related thread into a forum or growers community? Connect it here and enable othe users to find this information fast and easy!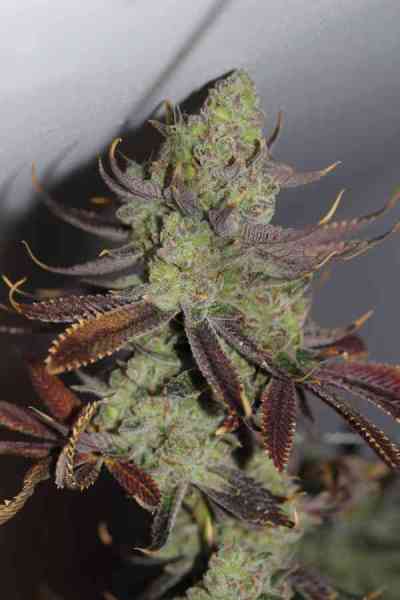 Conspiracy Kush strain
Conspiracy Kush Seed > TGA Subcool Seeds
Item currently not available. Please let me know when the product is available again:
Regular Marijuana Seeds | Indica | THC content >20% | Average yield
Characteristics
While there are some strains that are all-around crowd-pleasers, Conspiracy Kush likely isn't one of them—not that that's a bad thing. What we mean to say is, this strain has a highly particular high that you either love or hate from the very first smoke. Users describe Conspiracy Kush as a cerebral strain that makes them feel spacey, dreamy, but productive and functional at the same time. Most of the effects are felt in the brain. If you're a big fan of daydreaming and spacing out, this might be the perfect strain for you. Dreamers and realists alike can both enjoy the functional and productive high of Conspiracy Kush.
Not all strains are a fan favorite, and that's okay! Conspiracy Kush marijuana seeds provide a specific high that's either loved or hated. It feels spacey, dreamy, and cerebral. Its gentle buzz is perfect for those who love to daydream and doze off.
The mellow buzz of this strain can help clear your mind and invite new thoughts in—perfect for those with writer's block or other creative blocks. The gentle buzz of Conspiracy Kush also comes with a light-hearted sense of euphoria that can instantly put users in a good mood. As a Kush strain, this hybrid has a relaxing side as well that's great for evening or nighttime use to help you fall asleep. Many Kush strains can help with pain management as well as stress and anxiety relief. You really can't go wrong with Conspiracy Kush marijuana seeds.
Description