Here you can find all info about Chocolate Covered Strawberries from Exotic Genetix. If you are searching for information about Chocolate Covered Strawberries from Exotic Genetix, check out our Basic Infos, Lineage / Genealogy or Hybrids / Crossbreeds for this cannabis variety here at this page and follow the links to get even more information – or list all Chocolate Covered Strawberries Strains (±2) to find a different version. If you have any personal experiences with growing or consuming this cannabis variety, please use the upload links to add them to the database!
Basic / Breeders Info
Now I know most everyone has encountered a strain that was suppose to smell and taste like strawberry, only to be kinda like ehhhh. maybe a little bit lol. Don't worry, the wait is officially over! Strawberries to the max. This crazy lady packs on very colorful aromatic buds that reak and emulate an artificial strawberry to a T. If that isn't enough. how about adding a little chocolate on top. Truth be told. that's exactly how it smells and tastes. Simply put. its a party in your mouth! Expect exceptional yields, and an assortment of strawberry smells while growing her. Most phenos range from medium-tall but nothing too outrageous or uncontrollable. Colors and aromas come early from underneath the colas on out. Be ready to give the ax at 8 weeks as there's no waiting around for this one. She wont disappoint the most veteran of growers with her unique taste and palette, a fruity pot lovers delight!
Exotic Genetix' Chocolate Covered Strawberries Description
Chocolate Covered Strawberries is a mostly indica variety from Exotic Genetix and can be cultivated indoors (where the plants will need a flowering time of ±53 days ) and outdoors . Exotic Genetix' Chocolate Covered Strawberries is a THC dominant variety and is/was never available as feminized seeds.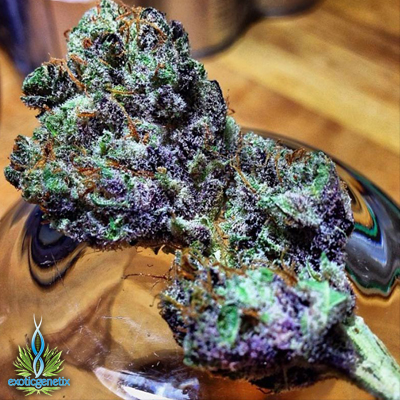 If you want to be notified when this product comes back into stock, please enter your email address below:
Please be aware that you will need to confirm your submission.
A verification email will be sent to you to confirm your email address.
If you have not recevied an email within a few minutes after your submission, please check your SPAM/Junk folders.