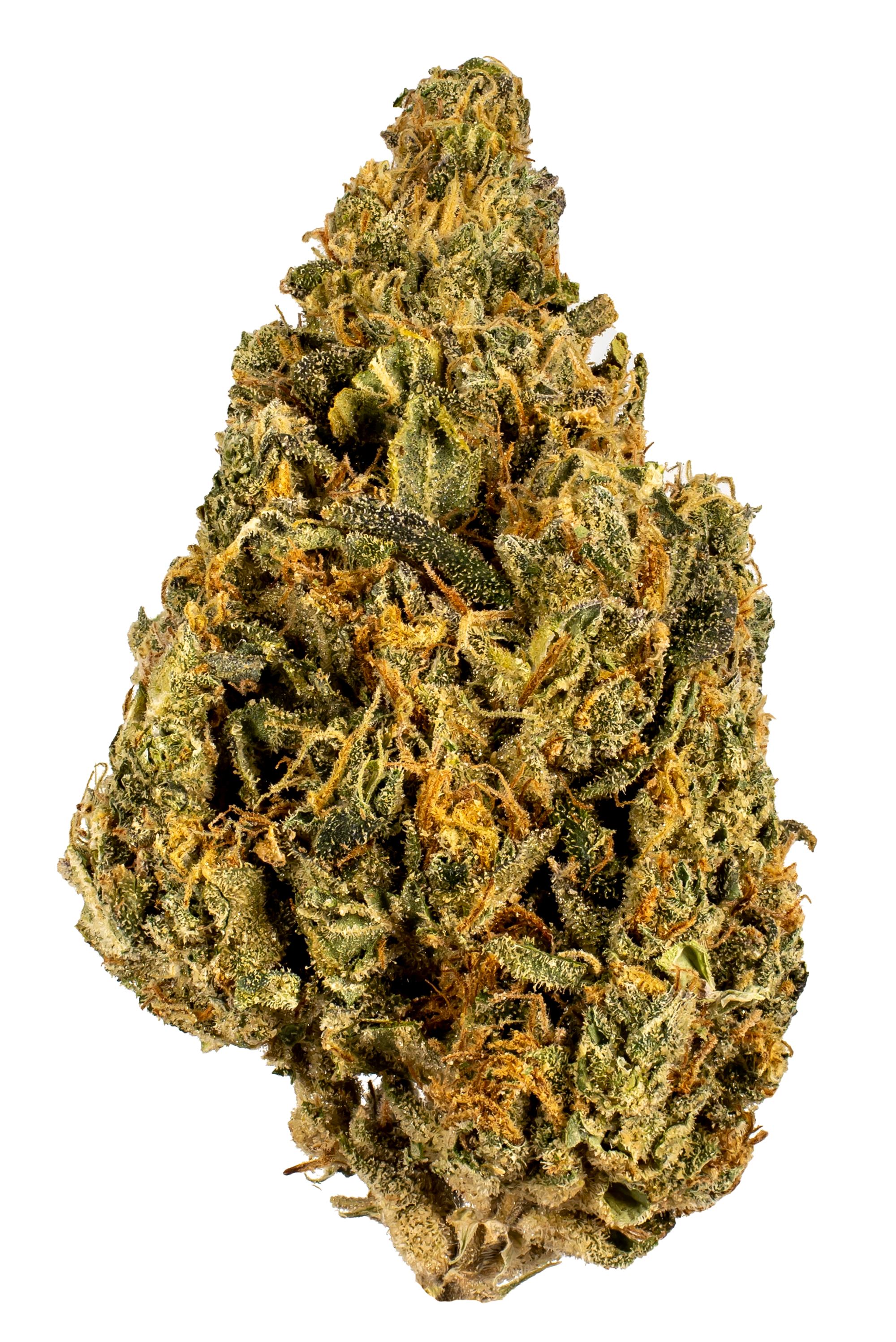 Cherry Blossom Kush produces large and slightly airy, dark, forest green buds, layered in a coating of rich, golden, glandular trichomes and burnt orange pistils. When breaking apart these buds, you'll be introduced to the fruity, sweet, and earthen scent that Cherry Blossom Kush's buds emit, which is typically accompanied by a similar sweet and fruity taste, reminiscent of cherries on the inhale, with an earthy and peppery aftertaste on the exhale.
Reviewers describe its indica leaning effects as having the potential to leave them in a dazed and sedative high. They advise novice consumers to start in smaller and more controlled doses when trying Cherry Blossom Kush.
Cherry Blossom Kush is an indica-dominant hybrid cannabis strain, known to be cultivated in the Pacific Northwest, including Nevada, California, Oregon, and Washington. First bred by Swamp Boy Seeds by crossing the genetics of the hybrid cannabis strain, Cherry Pie, and Orange Blossom Trail, it is reviewed by consumers to be a mellow and physically relaxing cannabis strain.
Cherry Blossom regularly test at higher levels of the psychoactive cannabinoid, THC, up to 28% in some batches, making it popular among users looking to alleviate symptoms of PTSD, depression, stress, and mild headaches, according to consumers who've had a chance to try this strain. Dominant terpenes found in Cherry Blossom Kush include Limonene, Beta-Myrcene, and Beta-Caryophyllene.
Genetics Berry Blossom x Cherry Wine, 99.9% feminized
Spacing 4-5ft if planted early in the season, 3ft if planted later or in a greenhouse environment. Plant is compact and stout.
CBD 27:1, Easily capable of achieving 30:1 CBD to THC or more depending on growing conditions. USDA Farm Bill Compliant with Total THC < 0.3%
Flavor and Aroma Like it's name suggests this strain is full of big, bold berry flavors but with a delicate, floral side as well, strong blends of gardenia, apple, and citrus blossoms. Heavy Myrcene + Pinene dominant terpene profile gives the cultivar a very potent smell and a wide range of profitable end uses.
Plant Characteristics Full and very bushy hedge like structure. Rapid and abundant vegetative growth, tight nodal spacing, with thick sturdy stalks and heavy flower yields. Creates abundant shade to its root zone and can thrive in high heat. Dense and abundant sparkling lime green flower yields.
Harvest FINISHES EARLY! Late September to early October.
Potential Yield 2-4 lbs+ per plant if allowed to go to full size.
Bulk pricing as low as .45/seed contact us for complete price list