Buy Caramelicious seeds
About Caramelicious seeds
Yvonne K. Alvarado from Austria
Most helpfull
Lane Faulkner from Matagami
Caramelicious produces big, fat buds with a sweet, caramel aroma and it is an easy-to-grow plant. An 80% indica, 20% sativa hybrid it produces a large amount of resin-exuding trichomes and has a very high calyx to leaf ratio that makes it a breeze to dry and manicure.
Caramelicious is a CBD-rich strain that has been bred by crossing Californian Orange with Skunk. It has been developed over a period in excess of 15 years and is ready to meet the demand for high CBD strains for the medical marijuana community.
Stringent selections have taken place in order to produce consistency in its sweet taste as well as its long-lasting high. Expect high yields to complement its undoubted quality. It does well outdoors as well as indoors; in the case of the latter it will be ready to harvest in 8 – 9 weeks of flowering producing high levels of both THC and CBD with a stimulating effect.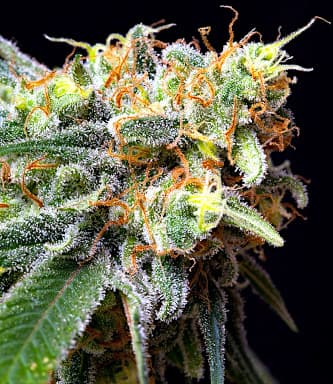 Caramelicious by The Bulldog Seeds is a feminised cannabis seed that has its origins in the cross of a Californian Orange Bud and a Skunk. It is a hardy and sturdy marijuana plant whose generous crops of hard, resinous buds give off a deliciously fruity scent. This strain is characterized by high levels of THC as well as high levels of CBD.
With Caramelicious, breeders of all levels will be able to quickly obtain amazing results whether they decide to grow indoors or outdoors. However, an eye should be kept on its behaviour if cultivated in extremely humid regions.
Caramelicious Seed > Bulldog Seeds
Characteristics
The flavour and aroma of Caramelicious are pronounced, with hints of sweet fruits and gummies. It provides a potent and long-lasting effect. Initially cerebral but more physical as time passes by.
Feminized Marijuana Seeds | Indica | THC content >20% | High yield