Al Capone OG is bred from a Ghost OG Kush (a.k.a. Florida OG/Josh D OG) mother and a Stardawg #2 male plant. The resulting hybrid is 60% indica with a very potent high and intense, funky smell.
Al Capone OG can be grown indoors, outdoors and in a greenhouse; growers who prefer to work outdoors should bear in mind that harvest is unlikely to be much before mid to late October in northern latitudes ruling out regions or locales where this might present a problem with bad weather. Indoor growers will find that flowering takes between 8 – 10 weeks to complete with yields being average to heavy depending on pheno-type, conditions and expertise as it's not the most straightforward cannabis strain to work with although the efforts are certainly worth anyone's time. Its buds are pretty dense and covered in resin crystals. She is hungry for extra calcium and magnesium and some plants like an extra shot of silica too.
The aroma of Al Capone OG is very intense and has a deep, rich, musky, lemon-edged OG Kush smell with other plants leaning more to a fuel-influenced Chemdog/Skunk. The rich taste offers a mouth-coating lemon, fuel, funky richness. With high levels of THC this strain is extremely potent – once tried never forgotten.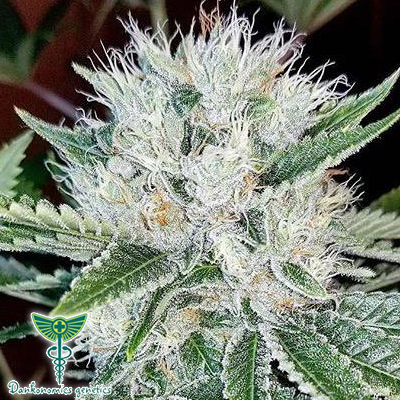 If you want to be notified when this product comes back into stock, please enter your email address below:
Please be aware that you will need to confirm your submission.
A verification email will be sent to you to confirm your email address.
If you have not recevied an email within a few minutes after your submission, please check your SPAM/Junk folders.