Researchers frequently find dead squirrels, bears, and birds, and other animals killed by the pesticides used on these grow sites. Once an animal consumes and dies from pesticides, the chemicals continue powering through the entire food web as scavengers feed upon poisoned carcasses. At one site, researchers found a dead fox, a dead vulture that had been feeding on the fox, and dead insects that had landed on both.
Last year Forest Service staff and partners removed more than 11,000 pounds of trash, 1,250 pounds of fertilizer, and numerous toxic chemicals from just one illegal site.
To reduce the grow site impacts and discourage illegal growers from returning, Forest Service and partner law enforcement agents, scientists, safety experts, and others plan and carry out clean-up efforts to remove the plants, irrigation infrastructure, waste, and chemicals. If they leave these resources intact, growers will return and reuse the same site.
On U.S. Forest Service land in California alone, more than 400 illegal grow sites have been identified. This is in part because international drug organizations have traditionally set up illegal grow sites on national forests in California.
"Some of the [pesticide] is so concentrated animals die in a matter of minutes, if not seconds," said Forest Service researcher Craig Thompson.
The bubbling vat on the San Bernardino National Forest is an example of what even law enforcement agents aren't prepared to handle during an initial raid due to the potential toxicity to both people and the environment.
Because growers spray pesticides and add them to irrigation systems, the chemicals also seep into the soil and surrounding waterways, which can kill aquatic species and potentially compromise the safety of people's drinking water downstream.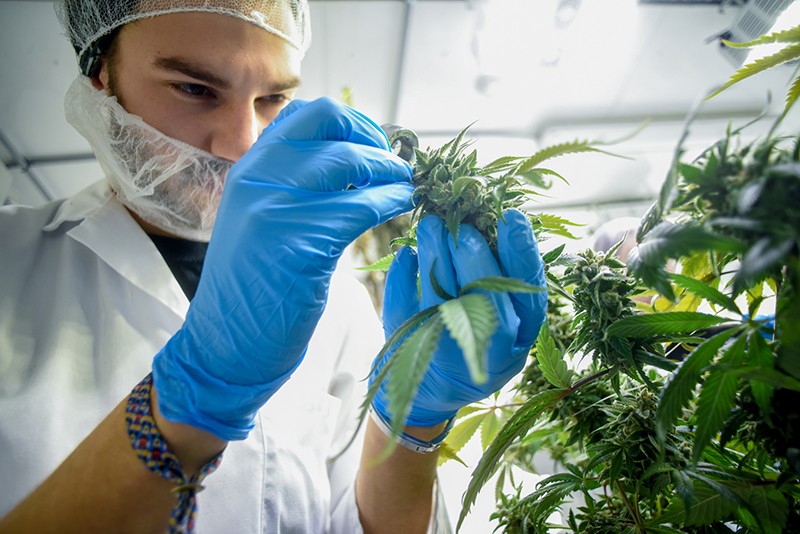 One sign of progress is that cannabis products can be recalled when they fail testing, just like other medical or consumer items. In December 2016 and January 2017, Organigram had to recall some of its products when residues from pesticides not approved for use in cannabis were detected. Although the company's reputation took a short-term hit, Purcell says that recalls are a sign of the industry's growing professionalism. Consumers can be confident that cannabis goods have been made "under a controlled, regulated environment and tested in a certified lab that guarantees safety and quality".
Independent testing labs have sprung up to help growers to meet the requirements, but like the wider cannabis industry, they face growing pains. "At the moment it's a bit like the Wild West, with different rules in different places," says Andrew James, marketing director of Ellutia in Ely, UK, which makes chemical analysis equipment for the cannabis industry, among other markets. "It can be hard to know what to test for, how to test and where to do it."
You can also search for this author in PubMed Google Scholar
"For a product to be sold in most US states, it has to be tested externally," says Jahan Marcu, director of experimental pharmacology and behavioral research at the International Research Center on Cannabis and Mental Health in New York City.
Testing, testing
Although many small-scale cannabis growers at first questioned the need for intensive product testing, most can now appreciate the benefits that the rules bring to the market. "People see the need for quality control and testing," says James. "It brings a legitimacy to the industry that hasn't always been there."
Many of his postgraduate students, he says, receive job offers from cannabis companies before they have even completed their studies. Zheng will begin teaching a cannabis production class for undergraduates at the University of Guelph in January 2020, and several colleges in North America already offer courses designed to provide skilled workers to the industry. In April, the first 24 students graduated from an 8-month cannabis production course at Niagara College Canada in Niagara-on-the-Lake. That course, intended for students who already have a diploma or degree in plant science, focuses on how to grow cannabis and the surrounding regulations. Bill MacDonald, a plant scientist and the programme's coordinator, says that the graduates were snapped up by industry.
More from Nature Outlooks
As the cannabis industry expands, the role of good science within it will also expand, and there will be further opportunities for collaboration. "More and more," says Zheng, "the scientific community and industry are directly communicating and sharing information."
"As the industry has gotten bigger, they realized they must transition to use modern horticultural science," says Youbin Zheng, a horticulture researcher at the University of Guelph, Canada, who works with cannabis companies.
2678786 Ontario Inc.
Check this table regularly for updated information. View the latest updates.
Note: As of October 17, 2020, cannabis oil is no longer a separate product class under Schedule 4 of the Cannabis Act. Oil products have been reclassified either as cannabis extracts, edibles or topical products, depending on the intended use. Oil has therefore been removed from the table below.
Licence holders
Individuals who are authorized by a health care professional can register to buy products from holders of a licence for sale for medical purposes. Learn more about accessing cannabis for medical purposes.
A federal licence is required to cultivate, process and sell cannabis for medical or non-medical purposes.
Aleafia Farms Inc. (2nd site)
On this page
Cannada Management Group Global Inc.
This table lists all cultivators, processors and sellers that hold a licence issued by Health Canada under the Cannabis Regulations. It also lists the classes of cannabis (as per Schedule 4 of the Cannabis Act) that licence holders are authorized to sell to: