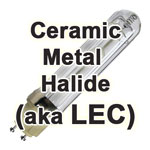 2.) High Intensity Discharge (HID) Grow Lights
3 Main Classes of Marijuana Grow Lights
Pros and Cons of HID Grow Lights
Metal Halide grow lights are generally used for the vegetative stage because they produce a bluish light that vegetative plants love, though this type of light can also be used all the way to harvest.
T5 grow lights are one of the most easily available types of grow lights and are used to grow many different types of plants. As a result, they're available in many garden and home improvement stores.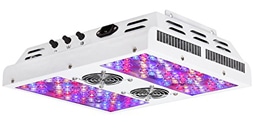 The name "Quantum Board LED grow light" originated from Horticulture Lighting Group, though the term is now sometimes used for any LED in this style. They tend to have relatively low wattage diodes which are spread out over a large area on a board. These are becoming more popular lately, and seem to offer particularly good results for the amount of wattage used.
Introduction: Are LEDs a Good Choice for Growing Cannabis?
Actual Power Consumption: 328W
2.) Traditional Panel
How Far to Keep from Plants: The manufacturers of this Kind LED grow light recommend that the lamp be kept at least 36″ from the tops of your plants for the best results. This model is very, very powerful and keeping it too close will give your plants light burn!