7. Trimming
During the drying process, plants lose roughly 75% of water weight, which increases the cannabinoid to weight ratio. It also helps equalize moisture content, preserve cannabinoids, and shed chlorophyll.
Starting with gaining a general understanding of the stages of growing Cannabis is a great place to begin before you try growing for the first time. It will help you have a decent idea of what to expect along the way.
During this stage, indoor plants need 16-18 hours of light per day, and outdoor plants need at least 6 hours of direct sunlight ("full sun"), plus several hours of indirect sunlight. They will also need plenty of Nitrogen during this point, as Nitrogen is the nutrient that promotes healthy leaf growth.
Stages of Growing Cannabis
After the seedling stage, Cannabis plants move to a vegetative stage. This is the time when the plant focuses on leaf production. It will not produce flowers at all during this stage, as the plant needs to grow plenty of leaves to take up enough photons (sunlight) to create the necessary energy to produce large flowers. The vegetative stage can last anywhere from 3 to 16 weeks, depending on the variety.
It's really easy to fall down the rabbit hole of information online. The sheer amount of information can almost hinder you when you're first getting started. I think it's easiest to just get started and learn as you go.
Cannabis is triggered to flower when the hours of light it receives are reduced. If you're growing outdoors, you're at the whim of the seasons and will have to wait until the sun starts to go down in fall for it to flower and then harvest. If you're growing indoors, you get to play mother nature and can force your plant to flower at any point. When you're ready for plants to start the flowering stage, change your lights to a 12/12 cycle ( 12 hours with the light on and 12 hours with it off ). You will see signs of flowering in 1-3 weeks . On average plants will be ready to harvest after 8-11 weeks of flowering.
The flowering stage is the last stage of the Cannabis plant life cycle. This is the time when your plant will stop putting as much energy into leaf growth and will instead focus that energy on creating the flowers (buds), which are used for medicinal and recreational purposes.
6. Drying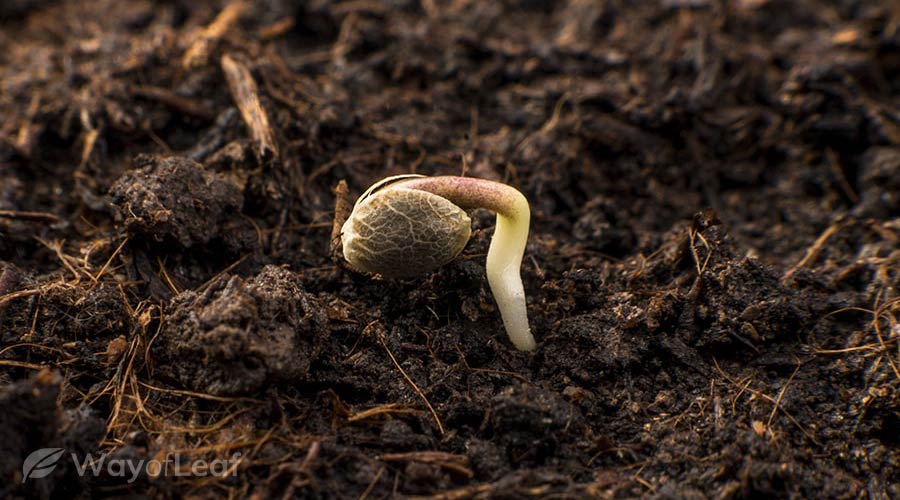 Once you have your feminized seeds, it's time to germinate them. Each and every seed contains a cannabis plant just waiting to emerge, but it will need some tender love and care in order to do so. Seeds need heat and water in order to sprout; otherwise, they will remain dormant.
2. Seedling Stage: 2-3 Weeks
Furthermore, the end of the vegetative stage provides a vital opportunity to look for males in your crop. As plants leave this stage, the females will start developing two white pistils, where males will grow pollen sacs. If you see these sacs, remove the plant from the vicinity before it pollinates the females and ruins your harvest.
EDITOR'S CHOICE – Homegrown CannabisCo
Once the germinated seeds are planted, they will begin growing. A little cannabis plant will sprout from the soil and begin to develop familiar characteristics. During the seedling stage, it will produce two leaves that open outward from the stem to start receiving sunlight. Next, its trademark cannabis leaves will begin to sprout at the top of the plant as it enters its first growth cycle.