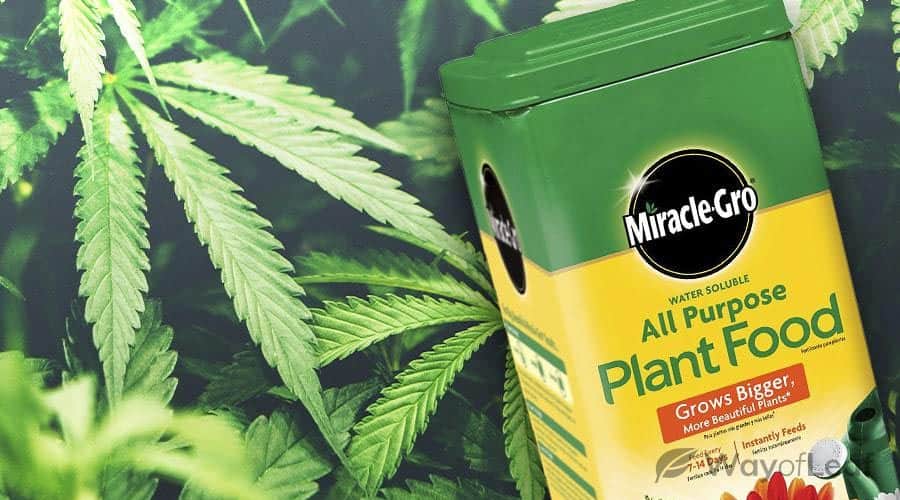 When choosing the right fertilizer for your marijuana plant, do a little research online and find a more suitable one, such as the ones we mentioned above. Keep away from MiracleGro!
You can minimize the use of fertilizers in marijuana cultivation to a point by picking breeds with strong genetics and utilizing as perfect a growing environment as possible. Despite this, you will most likely need some fertilizer at some point, especially when you are just starting out.
Due to all of this, it would make sense to think that MiracleGro would help with the cultivation of marijuana plants. Is this the case, though? We find out in the next section.
The fertilizer contains mainly nitrogen, potassium, and phosphorus, and there are different options with different combinations of the three available.
Final Thoughts on Using MiracleGro When Growing Marijuana
MiracleGro works wonders for plants with simple grow-cycles. Marijuana is not one of these plants. Cannabis goes through several different stages, and each requires its own blend of nutrients. This is one of the reasons why growing marijuana is so fulfilling. It offers even the most experienced of horticulturists a new challenge.
Perhaps surprisingly, MiracleGro is not a marijuana farmer's friend. It is a common mistake many rookies make as the fertilizer is so ubiquitous in the world of plant growing. You can utilize MiracleGro successfully, but it is challenging to get right, and you risk ruining your grow for benefits that are easily gained from using a better alternative.
If you don't fancy the D.I.Y method, there are plenty of other options out there. Some of the best on the market are:
Can MiracleGro Help Growing Marijuana?
Some growers do report using MiracleGro successfully, but it is the minority. Those who find success commonly use vastly watered down amounts of MiracleGro. All in all, it is just easier and safer to avoid using it altogether. You don't want to ruin all of your hard work when you don't have to.
What do you think of using MiracleGro to fertilize cannabis? Are you one of the few who have used it successfully? Do you have a better fertilizer not mentioned here? We'd love to hear about it in the comments below.
That said, the younger Hagedorn acknowledged a few months ago that Hawthorne was still figuring out how to serve Big Weed.
When one analyst implied that Scotts' general consumer business hadn't served large-scale professional landscapers as well as it had individual consumers in the past, Hagedorn (who is notably sharp-tongued) bristled.
Hagedorn has been betting big on weed since 2013. That's when, according to a colorful 2016 profile in Forbes, Hagedorn wandered into a Washington state garden store, where a shopkeeper told him that "everyone called him an idiot when he first started selling hydroponics equipment, but the stuff was flying off the shelves, with an average receipt of $400—straight cash."
"There are a lot of Scotts people wearing Hawthorne shirts these days," said CEO Jim Hagedorn, on a call with investors this week. That's why, said Hagedorn, the company's bottom line was hit hard by a slowdown in the California cannabis business, where sales were lower than expected following the state's rocky first year of legal adult use.
"The greenhouse supply business, it's a business we very much understand, and we're the best in the world at," said Hagedorn. "Hawthorne is going to be better than our [professional horticulture] business was at supplying a very unique specialized market, which is cannabis growers."
"Dude, I have a ton of respect for you," he said. "But I think that's total bullshit."
Today, Hagedorn and company—including his son Chris, who runs Hawthorne Gardening—sound like they want to take the business well beyond hardware-store hobbyists, and into the age of Big Weed. On the call, Hagedorn noted that the next legal markets are likely to have "fewer growers but larger ones."
"I told everyone 'We're doing it,'" Hagedorn said to Forbes. "'If you don't like it, leave. We're doing it. It's beyond stopping. And we're not getting into pot growing. We're talking dirt, fertilizer, pesticides, growing systems, lights. You know it's a multibillion-dollar business, and we've got no growth in our core. Are you guys stupid?'"
Since 2016, annual sales growth at subsidiary Hawthorne Gardening—which owns dozens of brands selling lights, filtration systems, premium soil, containers, air filters, and more specialized supplies for hydroponic operations—has outpaced the group's general lawn and garden business. For the fourth quarter, the parent company reported overall sales of $298 million, up 35% from the same quarter a year before. The Hawthorne unit was up a whopping 84% over that period, largely thanks to its acquisition of Sunlight Supply, yet another name in hydroponics that represented a near-literal doubling down in the weed business for Scotts Miracle-Gro.