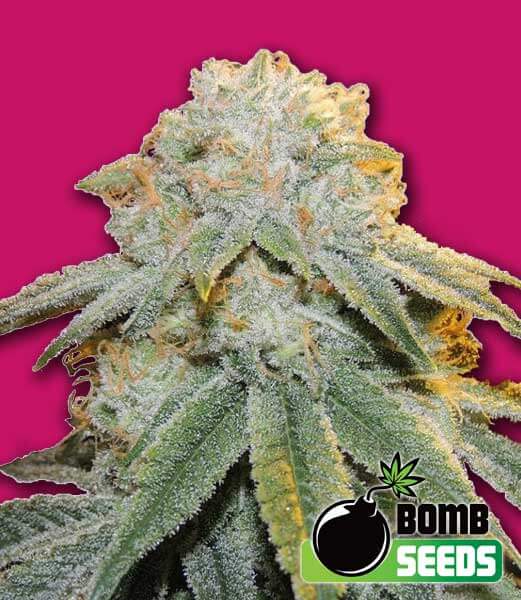 Alchimia presents Bomb Seeds Bubble Bomb, a cross between two well-known strains such as Bubblegum, the tastiest and most powerful phenotype, and THC Bomb, the most powerful seed bank variety.
Bomb Seeds Bubble Bomb cultivation
Bubble Bomb is ready to harvest after about 8 to 9 weeks of flowering, offering a high yield of up to 600g per m2 cultivated indoors. Cultivated outdoors it can offer a yield of more than 750g per plant when provided with optimal growing conditions, and with the harvest ready in October.
This cross between a cannabis cup winner and THC Bomb results in a spectacular variety that maintains its ancestors best properties and improves them in a new hybrid thanks to a meticulous breeding process.
Bubble Bomb is the result of crossing Cannabis Cup winning Bubblegum with our highly potent, signature strain THC Bomb. Our breeders selected the finest phenotypes to ensure maximum Bubblegum taste and potency were maintained during the breeding process, offering individuals something truly spectacular.
The first-rate Bubblegum smell and flavour are definite highlights; the sugary sweet, bubblegum tang, combined with the potency of the THC Bomb genetics make this a true connoisseur strain. The high is typically indica, offering a narcotic long lasting buzz with excellent medicinal qualities.
Bubble Bomb is one of our finest tasting strains to date and is backed up with a potency and yield to match.
Basic / Breeders Info
Plant Height: Short-Medium (55-95cm)
Indoor Flowering: 8-9 Weeks
Harvest Outdoor: Oct
Yield: Very High (650-750g/m²)
Stoned/High: Relaxing, deep, narcotic stone
THC: High (18-20%)
Bubble Bomb is an indica/sativa variety from Bomb Seeds and can be cultivated indoors (where the plants will need a flowering time of ±60 days ) and outdoors . Bomb Seeds' Bubble Bomb is a THC dominant variety and is/was only available as feminized seeds.
Bomb Seeds' Bubble Bomb Description
Outdoor Bubble Bomb's production increases significantly given the right conditions and plants will be ready come the end of October. Yields can easily hit 750g/m2+.