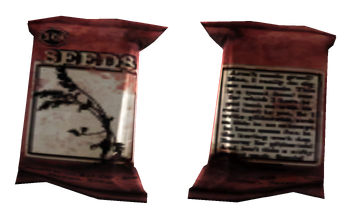 Seed packages are used by the biological research station to clone plants and replant them into one of the nearby plant beds. The station can then convert the harvested material into Salient Green. All plants will be grown in The Sink three in-game days after giving the seeds to the biological research station.
The dried seeds are in three separate packs and can be collected in any order during the quest Field Research. The seed packages are activators and aren't added as seeds to the player's inventory. Instead, they are converted into dried versions of 11 miscellaneous items in total when activated.
Locations
Harvesting Notes
Also known as 'love in a mist', this nigella is a mix of lighter blues. It also produces lovely pods which can be dried.
SPECIALTY CUT FLOWER RANGE
Nigella 'Blues' Seeds
Pinching: No
Height: 40-60cm
These seeds are part of our curated collection of flowers and other plants that are suitable for cut flower bouquets and arrangements. They are all plants that we have grown ourselves and rate highly. Often hard to find, or not readily available in single colours, they are all easy-medium to germinate from seed and grow yourself. We want you to have the most success possible for maximum gardening and floral joy!
Related Products
*We pack by volume so seed numbers are approximate only.
Nigella damascena
When to Start Inside: 8 to 10 weeks before your average last frost date for early spring planting, and midsummer for fall planting in both mild and cold climates.
Variety Information: 3″ flowers in mixed shades of blue, some with blotches.
Seed Depth: ⅛"
When to Sow Outside: RECOMMENDED. Cold Climates: 4 to 6 weeks before your average last frost date, or midsummer for fall and the following spring bloom. Mild Climates: Late summer for cool–season blooms.
Attributes: Deer Resistant, Edible Flower
Seed Spacing: A group of 3 seeds every 4″–6″
Days to Emerge: 7–20 days
Hardiness: Perennial in USDA zones 6–10; often grown as a frost-tolerant annual; transplanted in late summer/fall for blooms in fall, winter, and the following spring.