Planting directly into the ground or a raised bed requires a bit more preparation but has its benefits as well. Without a container to restrict growth, roots can grow deep and thick to support a strong plant. The added surface area also allows the plant to access a greater quantity of nutrients and water in the soil, compared with a container garden. The major downside is that the plants cannot be moved and could require additional structures to protect them in the case of extreme weather.
During the vegetative phase, plants need more nitrogen in order to create the roots and leaves that serve as the base for flowering. During the start of the flowering cycle, the plants will require more phosphorus and potassium than nitrogen. Towards the end of the flowering cycle, once the majority of the nitrogen has been depleted, the plants will focus their attention on using the remaining nutrients. The lack of nitrogen is largely responsible for the vibrant purple and orange hues that can be seen on large fan leaves and throughout the plants' colas.
Most cultivars will begin to flower once they receive fewer than 15 hours of sunlight per day. The latitude of your garden has a direct impact on how many hours a day your plants receive light.
Soil
Whether using seeds or clones, many cultivators start growing their plants indoors to ensure they are not exposed to damaging weather conditions as they develop their initial root system. The plants can be transitioned outdoors when the weather and light conditions are ideal. Extending the indoor vegetative growth period can help increase yields and allow growers time to select the best plants to be moved outdoors.
Becoming intimately familiar with your local climate and seasons is one of the most important steps in producing high-quality outdoor marijuana. Before you grow, you'll need to know the ideal temperature your plants require in order to thrive, the best site, optimal timing of planting and harvesting, and the season's photoperiod — the amount and intensity of light available through the duration of the growing season.
Image lightbox
Container gardens can be convenient as they can be moved around the garden to maximize sunlight or protect them from harsh conditions Photo by: Gina Coleman/Weedmaps
Pests come in many forms, from large deer and gophers to small slugs and spider mites. Larger animals and pets can be kept out of the garden with fencing, while gopher wire beneath your soil beds can keep rats and gophers from eating the plants' roots. Weeds will not damage cannabis, but they will compete for the nutrients in the soil and reduce the quality and yield of your crops. A light layer of mulch on top of your soil can prevent weeds from sprouting in the middle of your plants' cycle.
These are just some examples of amendments commonly used in different types of soils. Heavily amended soils will have long lists that break down all organic nutrients they contain. Some companies create soils that offer a great structure with base nutrients, but allow you to fill in the gaps as you desire.
Most potting soils used in gardening are loam soils. If you've ever worked with potting soil, you'll know that its composition is rich and diverse, and it looks dark and hearty. Beyond texture and color, the soil should smell rich and alive.
Start off with fertilizers that are inexpensive and readily available. Some release nutrients quickly and are easily used by the plant, while others take weeks or months to release usable nutrients. If done correctly, you can mix in a few of these products with your soil amendments to provide enough nutrients for the entire life of your plants. Most of these items can be purchased cheaply at your local nursery.
Big yields
Loam soils
The sky's the limit with outdoor plants—you can let them get as big and tall as you want, as long as they're manageable. One plant can potentially yield between a half-pound and full-pound of dried weed! Growing a handful of hands for yourself is more than enough. With an indoor grow, your space is a lot more restricted.
Silty soil is the ideal growing medium. It's easy to work, warms quickly, holds moisture, has good drainage, and contains a lot of nutrients. The best silty soil is dark, crumbly loam—it's fertile and probably won't need any amending.
While some plants thrive in their native soils, which are usually one of the compositions listed above, cannabis plants are best grown in soil that includes a combination of the three consistencies above—this mixture is known as loam.
Sandy soils
In general, 5-gallon pots are a good size for small-to-medium outdoor plants, and 10-gallon pots or larger are recommended for big plants. Regardless of size, you'll want to protect the roots of your plants from overheating during warm weather, as pots can quickly get hot in direct sunlight. This will severely limit the growth of your plants, so be sure to shade your containers when the sun is high in the sky.
For most first-time gardeners, we recommend buying a quality potting soil that will provide your plants with enough nutrients to get them through most of their growth cycle without having to add many amendments. This pre-fertilized soil—often referred to as "super-soil"—that can grow cannabis plants from start to finish without any added nutrients if used correctly.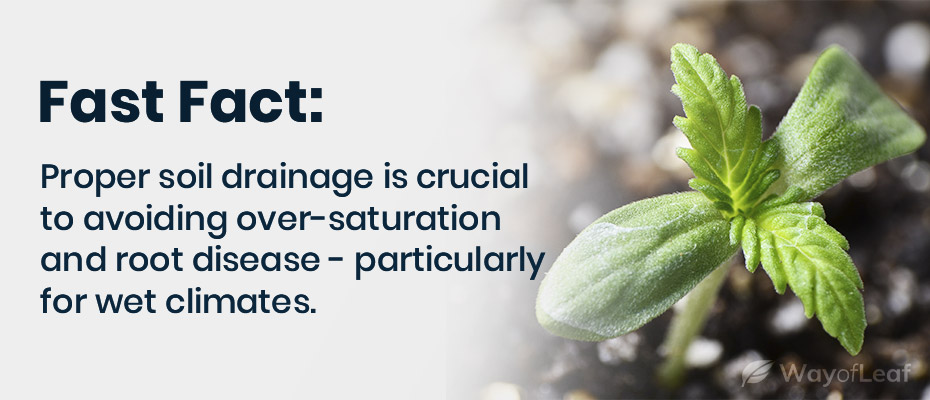 If you elect to purchase soil from a store, don't assume that it has a balanced pH level. Also, don't think that it will maintain this standard for the duration of the season, either. Ideally, your soil's pH will be 7.0. However, it may change over the course of a couple of months and become too alkaline or acidic.
Airflow is also critical, so be sure to invest in breathable containers. These enable air to penetrate the root zone quickly and ensure that oxygen gets to the roots. Once marijuana plants breathe in the CO2, the roots use the most with the highest consumption occurring at night.
Step #4: Add Some Fertilizer to the Plants
If you elect to clone, you need a mother plant. It's possible to buy clones from your local dispensary. However, bear in mind, clones require at least 16 hours of light a day to ensure that they don't flower.
Step #7: Protect your Cannabis Plants from Pets and Inclement Weather
When growing cannabis outdoors, you have to realize that, while weed is reasonably adaptable to different weather conditions, it is still vulnerable to temperature extremes.