Designed for indoor and outdoor cultivation, Happy Frog potting soil takes care of young cannabis plants' essential needs, from correct pH levels to balanced nutrients, including a vital combination of microbes and fungi from earthworm castings and forest humus.
At a price point that won't put a hole in your pocket, Black Gold boasts all of the essential traits of a strong soil for growing weed. Its loamy mixture contains an optimal blend of pumice and perlite for hydration and microorganism development, and its balanced nutrient blend won't burn young cannabis plants. Those features have won this soil praise from gardeners of all stripes, cannabis growers included.
Fox Farm's specialized line of soils for cannabis are some of the most widely acclaimed grow mediums available. If you're beginning your grow journey from the ground up, Happy Frog is an excellent soil to nurture seeds and seedlings.
If you're planning on planting a large container cannabis garden outdoors, Roots Organics Formula 707 is a versatile and capable option. An organic soil designed with greater water-holding capacity, Formula 707 contains ingredients and beneficial microbes specific to using larger containers.
Nature's Living Soil Organic Super Soil
But just as important as what's in this soil is what's not: less perlite, less pumice, and fewer amendments. This makes Formula 707 a highly customizable soil, allowing you to add your topsoil and liquid nutrients at various growth stages depending on your cannabis plants' needs.
Red's Premium is another all-in-one, ready-to-use soil blend. But what makes it one of the best soils for weed is its stand-out feature: biochar. Biochar is an amendment that excels at protecting and promoting the growth of bacteria, fungi and other microorganisms that are essential for root development and strengthening your plant's immune system.
Still, Formula 707 has enough nutrients to last 10-14 days before you need to add anything. And for convenience, you can use the soil bag itself as a pot. Just cut off the top, poke some holes in the bottom, plant your seedlings and you're ready to grow.
Aurora Innovations Roots Organics Formula 707
Your soil's nutrients and the water you provide need to link up to be available for and absorbed by plants' roots. Biochar, a carbon-rich charcoal amendment, not only facilitates this process but it also provides a large surface area for microorganisms to live and thrive. Red's Premium Biochar-based soil thus creates an ideal "habitat" for all the living beings that help your cannabis plants reach their full potential.
The best soils for weed don't always have to be products specialized for cultivating cannabis. Sometimes, a good organic potting soil is all you need, and Sungro's Black Gold all-organic potting soil is an excellent case in point.
Environmentally friendly
How to set up your outdoor marijuana grow
Having a constant breeze is good for your plants, and especially in hot climates. But if you live in an area with a lot of high winds, consider planting near a windbreak of some sort, like a wall, fence or large shrubbery.
Privacy and security
Most potting soils used in gardening are loam soils. If you've ever worked with potting soil, you'll know that its composition is rich and diverse, and it looks dark and hearty. Beyond texture and color, the soil should smell rich and alive.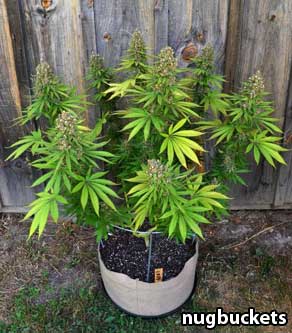 The "micro-herd" in the soil delivers nutrients directly to your plants. As long as you're using decent water, you usually don't need to worry about pH or other things that can disrupt nutrient absorption in regular soil.
This plant is growing in Fox Farm Ocean Forest Soil
What should you look for in good cannabis soil?
Their Ocean Forest soil mix is "hotter" soil (higher levels of nutrients) that contains ingredients that cannabis plants love, including earthworm castings, bat guano, fish meal and crab meal. The nutrients contained in the soil will provide everything your plant needs for several weeks. Although it might give young seedlings just a touch of nutrient burn at first, they can be started in Ocean Forest soil and will soon be able to use the nutrients and start growing quickly. Some growers might put a little big of Happy Frog on top of a container of Ocean Forest, just to make it a little more gentle for seedlings the first week or two.
Kind "Super" Soil (Living Soil)
This is what kind of soil to get if you don't have any "good" soil available, but want something that is known to work for growing cannabis.
Bad Cannabis Soil
Don't use dirt from outside! It almost never works, especially if it looks like this!
The composting process creates a "living" soil that is full of microorganisms in the rhizosphere (area around the roots). Properly composted soil has nutrient sources that slowly break down over the course of your plant's lifecycle. It very closely mimics what happens in nature.
Fox Farm Ocean Forest Soil
Note: You'll likely never see any soil mix with ALL those ingredients, but I wanted to share examples of common cannabis-friendly ingredients and amendments that often appear on the label of good soil
When cannabis growers talk about "super" soil, they're usually referring to soil that has been amended with slow-releasing organic nutrient sources, and then composted for several months (learn more about super soil).