It is, however, the best soil for cannabis, which means it is worth the time and effort that you have to put in. No matter what type of soil you have, creating loam involves adding organic matter to it each year. The decomposing plant material creates the excellent drainage conditions your weed needs.
If you are a beginner grower, you must purchase your soil from a garden store. Did you know that the vast majority of expert growers also buy their soil? A handy tip when talking with a store employee is to ask about the right kind of soil for tomatoes. It is an excellent option if you feel uncomfortable disclosing your desire to grow weed!
Loam has a dark color and is soft, dry, and crumbly when you hold it. Although it offers a tight hold on plant food and water, it drains exceptionally well. The air can freely move between the particles down to the marijuana plant's roots.
Drainage, Texture & Water Retention
That's why indoor systems, which have a lack of space, need to create smaller root systems for marijuana. Regardless of the root system you choose, make sure the temperature in the growing area stays around 68 degrees Fahrenheit.
When you water the plant, it moves essential nutrients and minerals to the roots. Then, they travel to the rest of the plant. Water cools overheated plants down and is a critical ingredient for photosynthesis. The best advice we can give is to water the soil until it is moist, but not wet to the touch. Overwatering aids the growth of harmful fungi, which can result in root disease, so exercise caution!
Best Soil for Growing Weed Outdoors
This soil type consists of minerals such as quartz and fine organic particles. Although they hold moisture, silt soils have decent drainage and are one of the easiest to work with when wet. Also, silt soils are among the most fertile, which gives you a chance of a decent-sized harvest. With frequent irrigation, you can extend the length of the growing season. Silt soil is one of the best soil types for seedlings.
When growing weed outdoors, make sure you use soil that feels fluffy in your hands. It needs to possess a reasonable amount of nutrients, and good drainage is essential. Compost and store-bought fertilizer can form a fertile and productive base. Crucial nutrients include Nitrogen, Potassium, and Phosphorus.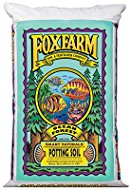 If you are willing to keep transplanting to bigger pots as your plant uses up the nutrients in the soil, you don't need to supplement with extra nutrients. However, even if you grow in the same pot from seed to harvest, Fox Farm offers a complete nutrient system that is also formulated for plants like cannabis and goes perfectly with their soil to make sure your plant is getting the right levels of nutrients throughout its life.
Usually an organic potting mix does not have enough nutrients to last your plants for more than a few weeks, so it's a good idea to always supplement with cannabis-friendly nutrients, especially in the flowering stage when your plant is making buds and needs lots of extra Phosphorus and Potassium.
Recommended soil nutrients:
Fox Farm Ocean Forest Soil
This plant is growing in Fox Farm Ocean Forest Soil
What gets the best results for growing cannabis is a soil with a light texture that is good at retaining water…but not too much!
Now here are a few examples of good and bad cannabis soil so you can see the texture you're looking for!
Organic Potting Mix
Super Soil has a colony of micro-organisms living in the soil which form a symbiotic relationship with your plant roots. They deliver nutrients to your plant, and in return they eat the sugars that get secreted by your roots!
What should you look for in good cannabis soil?
Growing cannabis outdoors offers many benefits. Firstly, it can be very affordable. You do not need to provide a structure like a greenhouse or high tunnel. In addition, artificial light is not necessary if you place it in the right spot in your yard, because your plants can benefit from the sun's abundant and free energy.
Soil Types
Test kits are available to measure your soil's acidity, or you can take a sample to your friendly local extension agent. If your dirt does not have the proper acidity, soil amendments are available to lower or raise the pH level in your soil. Your local nursery, garden store or extension agent can make some suggestions.
Loam for Growing Marijuana & Other Crops
Clay is just the opposite. When it's hot and dry, clay can become hard as a rock, making it difficult for roots to penetrate. Clay drains poorly and is hard to cultivate. On the plus side, it is rich in minerals and natural nutrients.