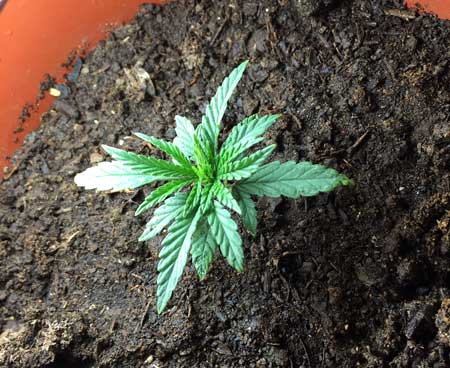 Bad Cannabis Soil
This soil is muddy, clumpy and waterlogged. It retains too much moisture, which makes it really easy to overwater your plants.
I think most growers agree a good cannabis soil should look dark and rich, with a loose texture that drains well and can hold water without getting muddy (you want wet soil, not dirt-batter!). But beyond that, what do you look for?
Some popular soil examples that I've used with good results include:
More About Common Amendments to Alter Texture, Drainage & Water Retention of Soil
Espona Organic Potting Mix is found in many stores in the US, and works for growing cannabis!
Fox Farm has been around for over 30 years and makes some of the most common types of "cannabis soil" (at least in the US). They have several great soil mixes, including "Happy Frog" which is a great choice for seedlings and clones.
Important Cannabis Soil Considerations
Bad Cannabis Soil
Don't use dirt from outside! It almost never works, especially if it looks like this!
Bad Cannabis Soil
Cannabis soil should not have a whole lot of big visible wood chips in it. That means the soil hasn't been fully composted, and all the nutrients and goodness in that wood is mostly unavailable to your plants.
At a price point that won't put a hole in your pocket, Black Gold boasts all of the essential traits of a strong soil for growing weed. Its loamy mixture contains an optimal blend of pumice and perlite for hydration and microorganism development, and its balanced nutrient blend won't burn young cannabis plants. Those features have won this soil praise from gardeners of all stripes, cannabis growers included.
But just as important as what's in this soil is what's not: less perlite, less pumice, and fewer amendments. This makes Formula 707 a highly customizable soil, allowing you to add your topsoil and liquid nutrients at various growth stages depending on your cannabis plants' needs.
Designed for indoor and outdoor cultivation, Happy Frog potting soil takes care of young cannabis plants' essential needs, from correct pH levels to balanced nutrients, including a vital combination of microbes and fungi from earthworm castings and forest humus.
From planting seeds to harvesting buds, Nature's Living Soil's Organic Super Soil has you covered through cannabis' entire grow cycle. Reviewers love the ready-to-use simplicity this soil provides: just plant, water and wait. For those growing on their own for the first time, this is one of the best soils you can buy.
Aurora Innovations Roots Organics Formula 707
Still, Formula 707 has enough nutrients to last 10-14 days before you need to add anything. And for convenience, you can use the soil bag itself as a pot. Just cut off the top, poke some holes in the bottom, plant your seedlings and you're ready to grow.
Red's Premium is another all-in-one, ready-to-use soil blend. But what makes it one of the best soils for weed is its stand-out feature: biochar. Biochar is an amendment that excels at protecting and promoting the growth of bacteria, fungi and other microorganisms that are essential for root development and strengthening your plant's immune system.
If you're planning on planting a large container cannabis garden outdoors, Roots Organics Formula 707 is a versatile and capable option. An organic soil designed with greater water-holding capacity, Formula 707 contains ingredients and beneficial microbes specific to using larger containers.
Red's Premium Biochar-Based Soil
The best soils for weed don't always have to be products specialized for cultivating cannabis. Sometimes, a good organic potting soil is all you need, and Sungro's Black Gold all-organic potting soil is an excellent case in point.
Fox Farm's specialized line of soils for cannabis are some of the most widely acclaimed grow mediums available. If you're beginning your grow journey from the ground up, Happy Frog is an excellent soil to nurture seeds and seedlings.