If you're planning on planting a large container cannabis garden outdoors, Roots Organics Formula 707 is a versatile and capable option. An organic soil designed with greater water-holding capacity, Formula 707 contains ingredients and beneficial microbes specific to using larger containers.
At a price point that won't put a hole in your pocket, Black Gold boasts all of the essential traits of a strong soil for growing weed. Its loamy mixture contains an optimal blend of pumice and perlite for hydration and microorganism development, and its balanced nutrient blend won't burn young cannabis plants. Those features have won this soil praise from gardeners of all stripes, cannabis growers included.
From planting seeds to harvesting buds, Nature's Living Soil's Organic Super Soil has you covered through cannabis' entire grow cycle. Reviewers love the ready-to-use simplicity this soil provides: just plant, water and wait. For those growing on their own for the first time, this is one of the best soils you can buy.
Red's Premium Biochar-Based Soil
Still, Formula 707 has enough nutrients to last 10-14 days before you need to add anything. And for convenience, you can use the soil bag itself as a pot. Just cut off the top, poke some holes in the bottom, plant your seedlings and you're ready to grow.
Red's Premium is another all-in-one, ready-to-use soil blend. But what makes it one of the best soils for weed is its stand-out feature: biochar. Biochar is an amendment that excels at protecting and promoting the growth of bacteria, fungi and other microorganisms that are essential for root development and strengthening your plant's immune system.
Aurora Innovations Roots Organics Formula 707
Cannabis plants spring up like a literal weed. But growing weed optimally — in a way that allows it to express its best traits and produce trichome-rich flowers — demands care, attention to detail and a bit of trial-and-error. At the same time, there's no better way to develop a closer, more connected and more rewarding relationship with cannabis than growing some yourself. To get you started, here's our list of the five best soils for healthy weed.
Your soil's nutrients and the water you provide need to link up to be available for and absorbed by plants' roots. Biochar, a carbon-rich charcoal amendment, not only facilitates this process but it also provides a large surface area for microorganisms to live and thrive. Red's Premium Biochar-based soil thus creates an ideal "habitat" for all the living beings that help your cannabis plants reach their full potential.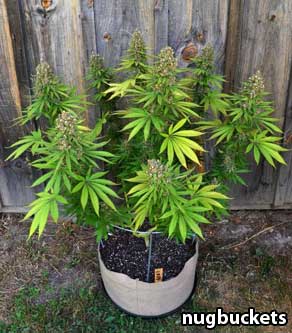 The "micro-herd" in the soil delivers nutrients directly to your plants. As long as you're using decent water, you usually don't need to worry about pH or other things that can disrupt nutrient absorption in regular soil.
I think most growers agree a good cannabis soil should look dark and rich, with a loose texture that drains well and can hold water without getting muddy (you want wet soil, not dirt-batter!). But beyond that, what do you look for?
Recommended soil nutrients:
Good Cannabis Soil
The plant is growing in organic, composted "super soil" which has enough amendments to last your entire grow, so the only thing you do is add water!
Kind "Super" Soil (Living Soil)
Fox Farm has been around for over 30 years and makes some of the most common types of "cannabis soil" (at least in the US). They have several great soil mixes, including "Happy Frog" which is a great choice for seedlings and clones.
Note: You'll likely never see any soil mix with ALL those ingredients, but I wanted to share examples of common cannabis-friendly ingredients and amendments that often appear on the label of good soil
Bad Cannabis Soil
Although this seedling is over a month old, it has stayed tiny. Its growth is stunted by the thick heavy soil that holds way too much water and not enough air. Note how some of the soil looks like one solid object.
Important Cannabis Soil Considerations
If you are willing to keep transplanting to bigger pots as your plant uses up the nutrients in the soil, you don't need to supplement with extra nutrients. However, even if you grow in the same pot from seed to harvest, Fox Farm offers a complete nutrient system that is also formulated for plants like cannabis and goes perfectly with their soil to make sure your plant is getting the right levels of nutrients throughout its life.
Perlite

The apparent simplicity of picking soil often fools newcomers, and they frequently make mistakes that cost them their harvest. The truth is, you have to make a lot of considerations. For example, the soil you use for indoor growing is not the same one you'll need for an outdoor grow. Then there is the small matter of things like pH, drainage, and a host of other criteria.
Pros & Cons of Growing Cannabis in Soil
The size of the containers you choose will dictate the size of the marijuana plant's root system. The more space the roots have, the faster they grow. You can expect problems to arise when the roots outgrow your container, so choose wisely! There is no need to go beyond a 10 x 10 x 10 cm container while your plants are still seedlings.
Sandy Soils
In case you weren't aware, pH means 'potential of hydrogen.' It is a chemical scale that determines a substance's alkalinity or acidity. The range goes from 0-14. A pH of 7.0 is neutral (pure water is 7.0, for example). Everything from 0-6.9 is acidic, while everything from 7.1 to 14 is alkaline.