Battery acid and hydrochloric acid have a pH of 0, while liquid drain clearing fluid has a pH of 14. Ideally, your cannabis soil is slightly acidic. Most experts believe that the ideal pH is 6.0. However, you are on solid ground if your soil's pH is between 5.8 and 6.3. Your crop will survive outside of this range, but the yields are likely much smaller. If you stray too far from the 5.8-6.3 range, the plants will die.
Natural soil comes in four varieties: sandy, silt, loam, and clay. You are in for a nasty surprise if you think that soil is just one 'type.'
This type of soil is among the best organic options for cannabis. Clays consist of fine crystalline particles created via chemical reactions amongst minerals or other natural resources. You can mold or shape clay soil, but it is hard to work with and drains poorly.
Loam has a dark color and is soft, dry, and crumbly when you hold it. Although it offers a tight hold on plant food and water, it drains exceptionally well. The air can freely move between the particles down to the marijuana plant's roots.
Best Soil for Growing Weed Outdoors
This is because they don't benefit from nature in the same way as outdoor growers. Use heat to sterilize the soil and add nutrient-rich potting soil mix. You can make it yourself, but newbies should purchase it from the garden store. Water the soil correctly. Also, keep it in a room with a temperature of 68 degrees Fahrenheit and test the pH every so often.
Before we continue with the best soil brands for growing cannabis, let's look at general guidelines for indoor and outdoor soil.
The texture, drainage ability, and water holding ability are arguably the most critical aspects of marijuana soil. Your plant will not produce a good yield if it doesn't have the right mixture of water and oxygen in the roots 24/7. If there is too much water, the roots won't get enough oxygen. If there isn't enough water, the roots can dry out quickly and become damaged.
Silt Soils
This enhances water retention and causes your soil to become 'lighter.' It works particularly well with Perlite.
The apparent simplicity of picking soil often fools newcomers, and they frequently make mistakes that cost them their harvest. The truth is, you have to make a lot of considerations. For example, the soil you use for indoor growing is not the same one you'll need for an outdoor grow. Then there is the small matter of things like pH, drainage, and a host of other criteria.
Roots Organics Original Potting Soil is ready-to-use for your indoor garden. Its formula is perfectly designed for aeration and water retention so you can feed your plants frequently for fast growth.
Cannabis potting soil requires proper soil drainage. When watered, the soil should not hold the water too much to where it pools on the top. If you have bad drainage, your plants can be vulnerable to root rot and mold.
Keep in mind, the nutrients in your soil mix don't last forever. At most, they can last a few weeks and require you to keep a close eye on any nutritional deficiencies or signs of overfeeding.
FoxFarm's Happy Frog Potting Soil is ready-to-use for indoor and outdoor applications. Happy Frog potting soil features soil microbes such as mycorrhizae and humic acid to improve root growth and nutrient uptake.
5. Big Rootz All-Purpose Potting Soil
A team of weed growers developed this high-quality formula that combines rapid-release amendments with medium and slow release for an optimal performance.
Mother Earth Coco and Perlite Mix contains 70% cocoa and 30% perlite. It's a soil with an incredible porosity, texture, and high cation-exchange capacity.
From Nature's Living Soil, the Super Soil Original Organic Concentrate comes in a 1, 5, or 10 lb. bag. All you need to do is add your preferred organic potting media to complete your mix. It contains all organic ingredients that your plant will need to thrive.
Water Retention
FoxFarm's Bush Doctor Coco Loco is a coconut coir potting mix meant to recreate the tropical jungle floor. Light and airy, it does this by incorporating layers of exotic coconut palm humus which can hold more than its weight in water while still retaining great drainage characteristics.
If you have an indoor cannabis grow set-up, you need the best soil for growing weed indoors. Our cannabis soil guide dives deep into the factors to consider when shopping for soil for pot plants including its drainage, water retention, and texture.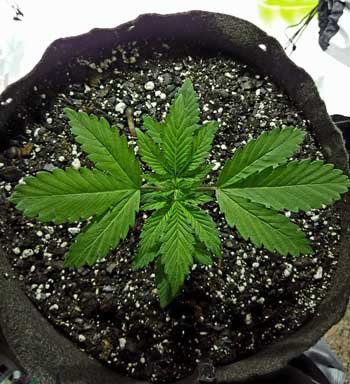 What should you look for in good cannabis soil?
Important Cannabis Soil Considerations
Vermiculite
Example of "Good" Cannabis Soil Ingredients
The following video shows the soil texture you want (this is Coco Loco, an excellent soil for growing cannabis)