Grow lights allow you to control exactly how much light your plants receive, ensuring they get the same amount of light day after day, without the grower having to solve problems with bad weather or cloudy days that happen in an outdoor environment.
Factors to consider before buying a grow light
HIDs have been the standard in indoor weed growing for decades, but LEDs are quickly catching up to them.
Types of marijuana grow lights
Make sure you have enough outlets and power available in your breaker board for your grow space to comfortably accommodate all equipment. Figure out all pieces of equipment, such as lights, fans, possibly an AC or dehumidifier, and calculate how much power they'll require. You'll be running this equipment every day for months, so if you don't have enough power it can be dangerous. Never overload an electrical outlet.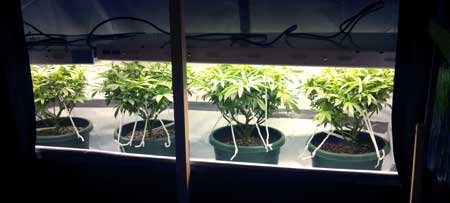 Keeping CFLs close results in the best yields and growth
High Pressure Sodium (HPS) Grow Lights
Note: Some growers may have heard of "Induction" grow lights, which are pretty rare these days but still pop up from time to time. There are two types: "Magnetic Induction" grow lights do okay for growing cannabis but they're pretty much glorified fluorescent lights. "Plasma Induction" grow lights actually perform pretty poorly at growing cannabis.
Example of MH/HPS Setups That Yield 1-5 Ounces/Month