Another consideration with cost is that some lights run hotter than others—HIDs, for example—so they may require additional fans or an AC unit to cool down a grow space. Extra equipment means more electricity, also driving up your utility bill.
Other considerations when choosing a cannabis grow light
CFLs (compact fluorescent lamps) are fluorescent lights similar to what you'd find in a school or office building, but smaller. For growing weed, they are usually called "T5s"—the "T" stands for "tubular" and the "5" refers to its diameter, "⅝".
HPS (High-pressure sodium)
You can find HID reflector hoods, as well as MH and HPS bulbs at any local grow shop.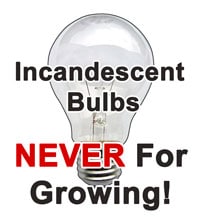 There are lots of options for grow lights that work well for growing cannabis indoors but in the end they boil down to 3 major types:
Compare the Pros and Cons of Each Grow Light
1.) Fluorescent Grow Lights