Here you can find all info about BBS (CBD) from Seattle Chronic Seeds. If you are searching for information about BBS (CBD) from Seattle Chronic Seeds, check out our Basic Infos, Lineage / Genealogy or Hybrids / Crossbreeds for this cannabis variety here at this page and follow the links to get even more information. If you have any personal experiences with growing or consuming this cannabis variety, please use the upload links to add them to the database!
BBS (CBD) is a mostly sativa variety from Seattle Chronic Seeds and can be cultivated indoors (where the plants will need a flowering time of ±67 days ) and in the greenhouse . Seattle Chronic Seeds' BBS (CBD) is a CBD Strain with more CBD than THC and is/was never available as feminized seeds.
Basic / Breeders Info
Sour Gas and Blackberry pie with dominate leaner side, more of a Blackberry sour haze smell on the stud side.
CBD rich plants with a variety of smells.
Grows well in all types of environments/mediums.
Most of the SUPER SOUR phenos will go for longer periods, but are always worth the wait.
Yields are large and works well in SoG/SCROG set ups.
Seattle Chronic Seeds' BBS (CBD) Description
In Bioleaching, although it is already prove that chalcopyrite can be dissolved by microorganisms, a major task is to do it efficiently in economical terms at industrial scale. BioSigma Bioleaching Seeds (BBS) represents a biotechnological breakthrough for the production of bioleaching solutions on demand with high concentrations of biomining microorganisms. This innovation is mainly a product based on the encapsulation of BioSigma bioleaching microorganisms in a natural matrix of alginate. This technology gives the following operational advantages: 1. High concentration of inoculum. 2. Long period of inoculum storage (more than 1 year). 3. Reduction of volume and costs of transport of bioleaching solutions. 4. Homogeneous mineral inoculation; uniform inoculation of the ore using solid capsules. 5. Protection against toxic elements to retain the viability and activity of the bioleaching solutions. 6. Addition of additives for incorporation of nutrients or other molecules that enhance the activity. 7. Encapsulation of different bioleaching microorganisms producing specific "bioleaching seeds" for each biohydrometallurgical process. All the above advantages make this new technology a very attractive alternative to enhance bioleaching processes at on site operations and overcome stressful conditions for biomining microorganisms.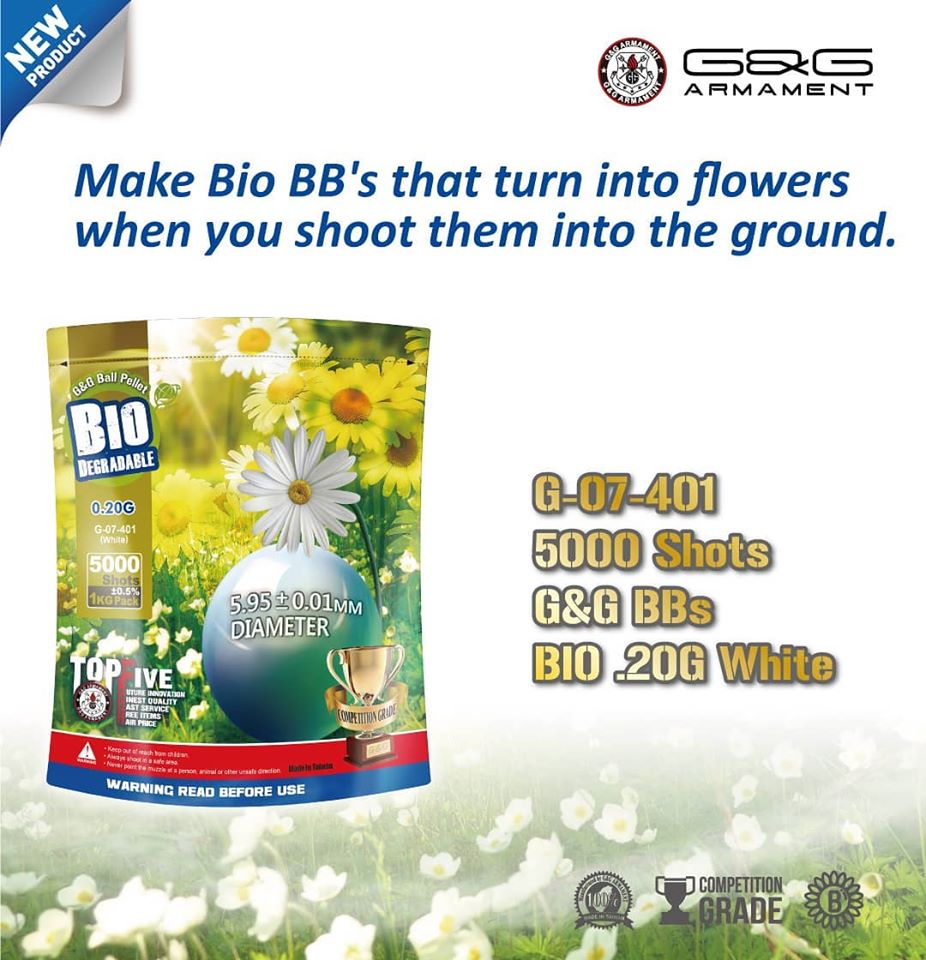 Each biodegradable BB contains a micro flower seed at its core. After about 90 days, the outer materials decompose, releasing the inner micro seeds into the ground. G&G's research tests show flowers started to bloom in ideal weather conditions in as little as 120 days!
After years of R&D, G&G Armament has finally perfected a new BB that is truly biodegradable and environmentally-friendly – so much so that it will literally turn your skirmish site into a beautiful meadow of flowers.
Visit G&G Armament on the web, and follow them on Facebook for further details.