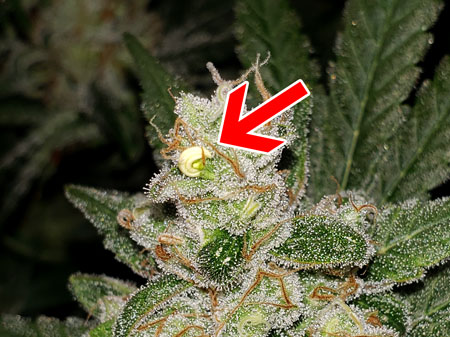 You need to be wary of any informal source of seeds, especially from people you don't know and trust. There are many scammers taking advantage of growers by sending poor quality cannabis seeds or even no seeds. Try to find at least two legitimate people who have ordered successfully from the same source before you send any money. It sounds like a pain but it can save you a lot of time and money.
If any pollen gets on your buds, it will cause seeds to grow. This is one way that seeds can get in your buds.
Many growers get seeds from other people on social media sites like Instagram or Facebook. Can these seeds be trusted?
4.) Male Plants
Whenever using found seeds, you should determine the sex of young plants as soon as possible. This lets you toss all the male plants before they start making pollen and seeding your buds.
You found some cannabis seeds! Yay! Should you grow them? Or should you buy cannabis seeds online at an online seed bank like Seedsman or Seed Supreme? What about on social media or even at a dispensary? How important are the marijuana seeds you start with?
These strains were grown in identical conditions. The green plant produced almost double the yields. The purple plant produced far less yields but the buds were denser, smoother to smoke, and almost twice as potent (14% THC vs 26% THC). When you buy seeds, you can choose what you like instead of the results being left to luck.
3.) Growth Patterns
Sometimes you get lucky with plants grown from found seeds. This bag seed produce excellent quality buds (though weirdly, the starting weed was not purple at all)
Unless growing with feminized seeds, typically about half of all seeds will grow into male plants like this one. Male flowers are pollen sacs, which look like bunches of grapes.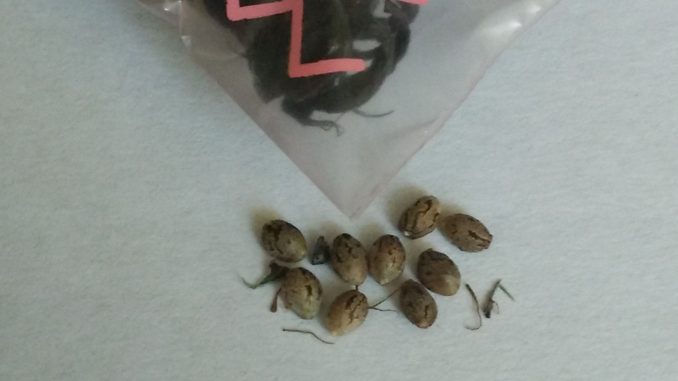 Whether the seeds found in buds are feminized or not depends on the source of the pollination. If the pollen was from a male plant, the seeds will be regular, meaning that the ratio of male to female plants will be around 50/50. But if the source of the pollen were male flowers (hermies) from the same plant or another female/hermie plant in the garden, the resulting bag seeds are feminized. Please note that such seeds are also very prone to become hermies if you subject them to stress.
And don't forget that the father could also have been another mother (a hermaphrodite plant). So do bag seeds work? Yes, they do. Are bag seeds any good? Well, this depends on the quality of both parents, and you simply don't have enough information.
If you have read carefully what we have said above, you've already guessed that bag seeds, like any other type of weed seeds, can be really anything (in terms of their genetics). But, for clarity's sake, let's answer any specific questions that you might have.
Are All Bag Seeds Hermies?
Having said that, a bag seed can be a real gem. You probably have heard stories of first rate strains that have been bred from seeds found in a bag of buds. One example is the famous Cinderella. It would be an irreparable loss for the marijuana growing community if the breeders of this masterpiece simply sneered at those seeds and threw them away.
Novice growers keep asking questions about bag seeds all the time. A girl I know has recently fired at me a series of questions that she thought no one would ever answer. I'm sure at least some of you have been as puzzled by these questions as her. Here it goes:
Table of Contents
Bag Seeds vs Seeds Bought in a Seed Shop
I've been asking everyone about these bag weed seeds, and no one can explain this to me. Because I swear to God I can't understand it myself. If the buds haven't been pollinated, then the seeds should be sterile. But they aren't! I've germinated one such seed myself, and it was growing fine.
Growing unknown bag seeds is always a toss of a coin. Even if you like the buds in which you have found these seeds, it doesn't mean you'll get the same quality. Let's put it this way: you've now met the mother (the buds you've just smoked), but you don't know anything about the father (the source of pollen). It may have been outstanding, it may have been mediocre, or it may have been the most worthless ditch weed that grows in your area.
Most experienced or commercial growers will not use feminized seeds because they only contain one set of genes, and these should never be used for breeding purposes. However, a lot of beginning growers start with feminized seeds because they eliminate the worry of having to deal with male plants.
A lot of classic weed strains that have been around for a while come in feminized form. Some popular fem seeds are:
What are autoflowering cannabis seeds?
Some seeds germinate very rapidly while others can take a while, but generally, seeds should germinate in 3-10 days. If it's been two weeks and a seed hasn't sprouted, it's probably a dud and won't sprout.
Pros and cons of growing autoflower
Make sure the area the seeds are in is warm, somewhere between 70-85°F.