However, if you are mostly interested in the high that cannabis can provide, autoflowers are still a good choice since many varieties offer high THC content (in addition to CBD).
Let's face it. While legalization has made growing cannabis easier, not everyone is pro-pot. Even in legalized areas, you still need to practice discretion . Autoflowering seeds are the best way to achieve this.
The ruderalis genetics in autoflowering cannabis seeds lead to plants that are relatively lower in THC content and higher in CBD. This means that those looking to enjoy the medicinal benefits of cannabis can easily obtain it from these easy-to-grow plants.
Autoflowering seeds tend to grow more quickly than indica and sativa strains, with some strains ready for harvest in as few as two months.
What Does "Autoflowering" Mean?
If you live in an area where the climate can change rather quickly, or you aren't too particular about maintaining the ideal growing conditions for cannabis, then opt for autoflowering strains since these are more forgiving when conditions aren't exactly right.
Research into the medicinal value of marijuana is still ongoing, but we, so far, know a lot about the therapeutic benefits of cannabidiol (CBD). It is actually one of the most abundant cannabinoids in the cannabis plant.
Autoflowering cannabis seeds exhibit this attribute. They switch into a flowering mode as a result of their genetic programming rather than environmental factors, such as the amount of light they are receiving each day. Therefore, you don't have to bother changing to a 12/12 light cycle to induce the flowering phase in autoflowering marijuana plants. Autoflowering strains require less maintenance, making them easier to grow.
Pros and Cons of Autoflowering Seeds
With autoflowering seeds, you can grow compact cannabis plants in an inconspicuous part of your property without anyone asking what you are growing. Plus, their rapid growth makes it even less likely for visitors to notice them. Regular cannabis plants take a lot longer to reach full maturity, which only increases the chance that people will notice your plants. Since some autoflowering cannabis strains can mature in as few as 8 or 9 weeks, the amount of time that it takes to reach harvest is a definite pro on the pros and cons of autoflowering seeds list.
Another key benefit of autoflowering marijuana plants is an easy growing experience due to their ruderalis heritage. Because of their fast adaptation as detailed above, these plants are hardy and resistant to several adverse conditions. Ordinary cannabis plants can easily succumb to many diseases and pests , but autoflowering plants will stand up to such a threat and survive. Similarly, autoflowering strains are also resistant to mold, overfeeding, and underfeeding, while regular photoperiod varieties will be adversely affected by these conditions.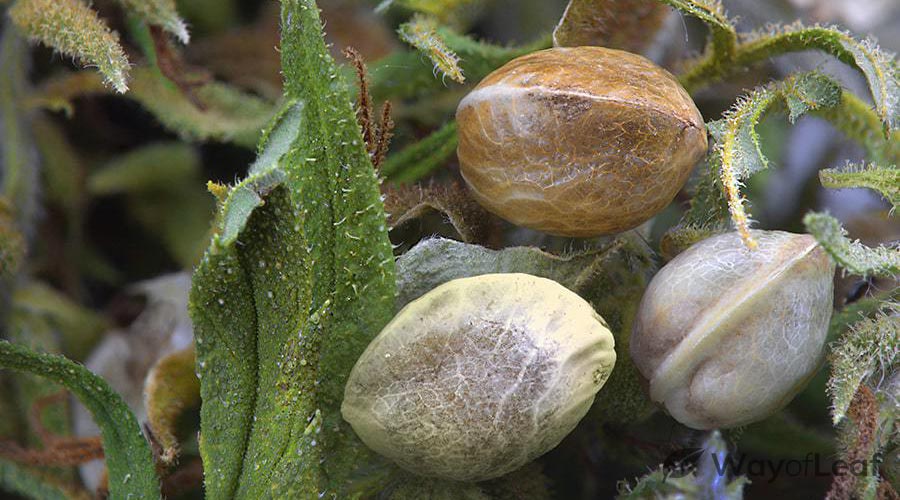 This autoflowering option is a new cross of White Widow, which is widely regarded as one of the finest strains around. It looks just like its photoperiod counterpart with wide dark green leaves and glistening trichomes. While it has many traits that made its traditional version so popular, the auto version has a total crop time of under 85 days!
If you grow marijuana the traditional way, you'll typically require a specific grow room and a separate flowering room. With autoflowering weed, you only need a single space. If you have several rooms, you can time your growing to guarantee a harvest every few weeks.
It is best to complete the training process during the vegetative stage. It is essential to act fast because this stage is only a couple of weeks long in autos. We recommend using a low-stress training (LST) method, such as pulling the plants down sideways to help boost upwards growth. When they start flowering, prune them for up to a week into the flowering stage and do NOT top them.
4 – Easy Bud Auto
After a week, opening the jars once every 2-3 days will suffice. Your bud is ready for use once there is only a small amount of moisture left. Transport your weed to a sealed container and use it within a few months.
Do you desperately want a cannabis garden but don't have the time to dedicate? If so, autoflowering seeds are potentially the answer to your prayers! These unique strains flower automatically rather than waiting for a specific lighting cycle. Generally speaking, your plants will begin flowering after a vegetative stage of just 2-4 weeks.
Fast Blooming
By now, it probably seems like a no-brainer to grow auto-flowering marijuana any chance you get. However, some disadvantages come along with the host of benefits that autoflower strains provide. Here is a brief list of the pros and cons of autoflower marijuana vs. regular marijuana.
Easy by name, easy by nature!…
Autoflowering in plants refers to an automatic switch from vegetative growth to the flowering phase. This process differs from that of typical strains which depend on a specific photoperiod of varying light and darkness. The autoflower grow process is fairly quick and efficient as plants may be ready to harvest within 10 weeks. Some common autoflowering strains include Northern Light Automatic, Royal Bluematic, and Easy Bud.
Regardless of grow environment, there's no need to supplement plants with a high level of nutrients as autoflowering seeds work independently. If growing a potted autoflower plant indoors, make sure your pot has drainage holes to provide sufficient oxygen. Be aware that some autoflowering strains may grow up to 4 feet tall, so give your seeds plenty of space to flower.
With age, autoflowering seeds of cannabis can switch from vegetative growth to the flowering stage.
How to grow autoflowering seeds
Autoflowering plants can start to flower within 2-4 weeks.
A characteristic that gives the cannabis plant the ability to start and complete the flowering phase as a result of the plant's age without reducing daylight hours. The characteristics of autoflower seeds are theorized to be a result of plants containing ruderalis genes.
What is autoflowering?
To grow autoflowering marijuana seeds, first select an indoor or outdoor environment. An indoor environment will allow you to cultivate the seeds any time of year provided that they have access to at least 18 hours of light per day. An outdoor environment works best starting in the spring when natural light is plentiful.
One of the primary advantages of autoflower seeds is that they can progress from seed to harvest in a matter of weeks. They survive in extreme climates, including cold freezes, and may even produce multiple harvests within the same season. On the other hand, one possible disadvantage of autoflower seeds is the notion that they produce lower quality flowers and may be less potent than other varieties.