alcohol 40 % per volume
Reviews about : Armagnac – Maison Gelas – 1920 to 1929
With this product, we recommend :
No alcoholic beverages may be sold to minors under the age of 18 (France). Proof of age may be required at the time of online sale.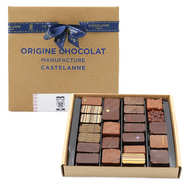 Consumption of alcoholic beverages during pregnancy, even in small quantities, can have serious consequences for the health of the child.
Reviews about : Chocolate & Armagnac
Customers who bought this product also bought :
Ethylotests on sale on this site
Alcohol is involved in one in three fatal accidents. To know if you can drive, check your blood alcohol level.