Large plant, good for LST.
Medicinally effective in pain therapy and appetite stimulation.
11 weeks with a yield up to 900 gr/m2.
Production up to 1500 gr/plant.
Ready by the 3rd. week of October (North hemisphere).
Spicy, minty sativa taste.
Extremely psychoactive high, strong and long lasting.
Ideal for equatorial, tropical, subtropical and temperate climates, needs support.
Continually Green House makes important investments on research and development to be more flexible and adapt to both the ever changing legal framework of Cannabis and the tastes and needs of the market. Besides that, they can always be one step ahead to take advantage of the business opportunities that are opening up within the legality, such as legislative changes in some US states or Uruguay.
Only a year later he had already won his first awards in the 6th edition at the High Times Cannabis Cup. A year later he won more awards and in 1995 the magazine High Times chose him for one of his covers. The growth of his company was exponential and quickly jumped to fame. Since then he has won 32 High Times cups and 17 Highlife cups among other awards. Some of its most acclaimed strains are Super Silver Haze, Hawaiian Snow, Arjan's Ultra Haze, Super Lemon Haze and the most recent Flowerbomb Kush.
Both spend much of their time traveling through remote places to discover new native strains. In their laboratories they plant new seeds, and after several generations and selections, they manage to stabilize a strain in certain key aspects such as the flowering period, the amount of resin or resistance to mold and fungi. They do not necessarily market them, but assure that they keep mothers of each strains and analyze them continuously. Maybe the day will come when a laboratory needs that specific strain.
On the crest of the wave
Possibly the main shock that has had has been with Shatibaba, who worked with Roskam in the early days of Green House. Their society did not last long: just after two years of rampaging at the High Times Cannabis Cup thanks to Super Silver Haze they presented together in '98 and '99, the egos collided and separated. From there Shantibaba founded Mr. Nice Seeds and were never reconciled. The focal point of the discussion focuses on White Widow, this strain recognized by the white layer of trichomes that cover it.
According to Arjam Roskam, thi strain arose thanks to the work of Ingemar, a former Green House worker. But according to Shantibaba, this variety was fruit of his work and personal effort, and when he left Greehouse he took with him the mother plants of the first stable generation he got. To this day he continues to claim that Arjan deserves no recognition in the creation of White Widow.
There was also another major incident in '95 at the High Times Cannabis Cup. Although Arjan had won the first prize in the Hash category, it was discovered that there had been a vote rigging and they ended up withdrawing the prize.
From commoner to king
Arjan Roskam has allies, but also a few detractors. Many accuse him of being a charlatan and liar.
The Green House empire was getting bigger and today he owns at least 4 coffee shops, the prestigious seed bank, its line of nutrients and crop products, a documentary producer that he shot in Malawi, Morocco or India, and an educational channel on Youtube, where he participates, along with his unconditional friend Franco Loja in cannabis adventures in exotic countries. These documentaries became his series Strain Hunters. Franco, an Italian who belonged to the parachute division of the Italian army is currently responsible for the crops of Green House Seeds.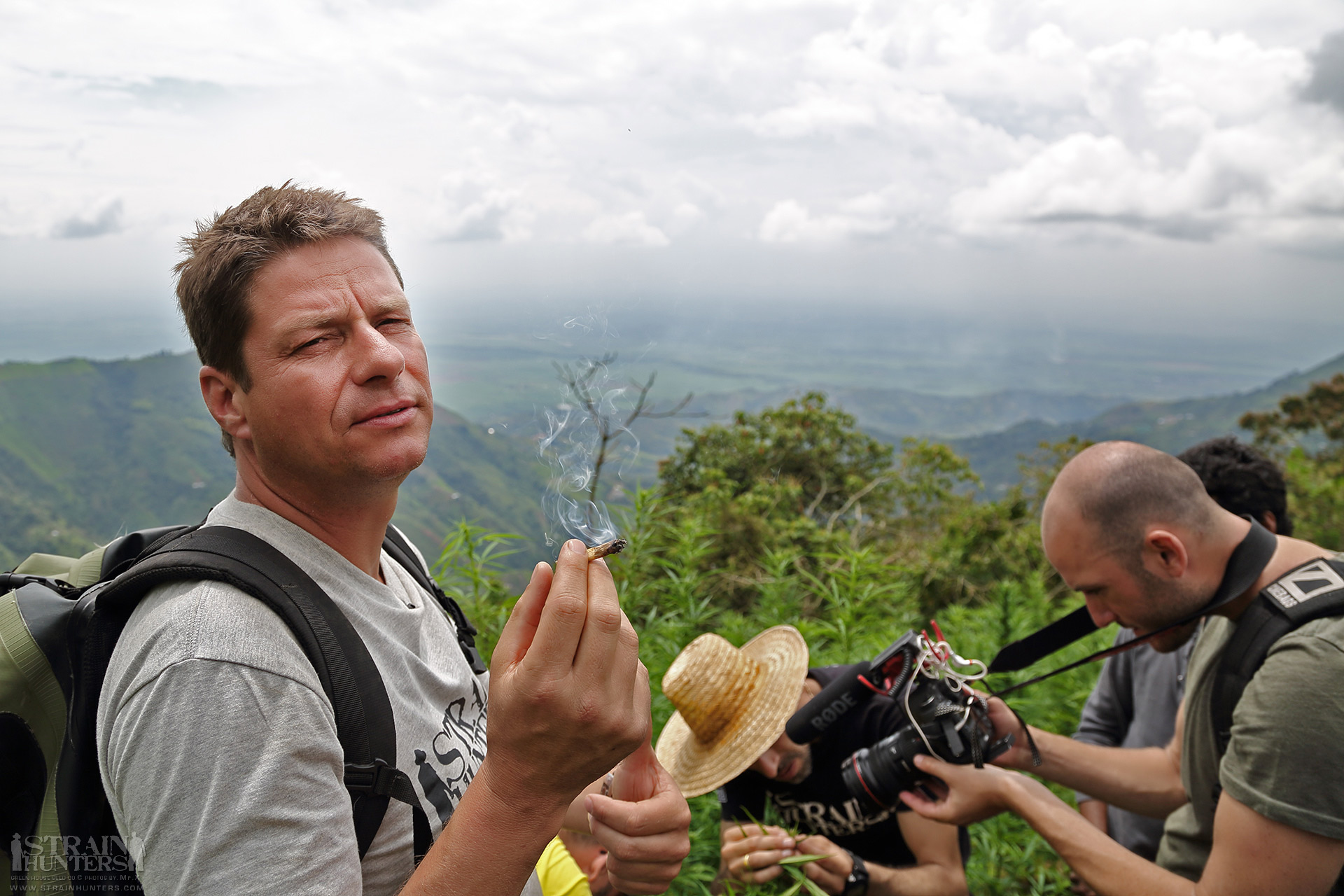 Arjan, owner and founder of the Green House Coffeeshops, Green House Seed Company, Strain Hunters, Green House Feeding, Green House Kitchen, GH Medical and several other cannabis businesses, has been acclaimed The King of Cannabis for his amazing record of cannabis prizes won throughout his career. He is the only breeder in the world credited with winning over 40 high times cannabis cups. He has always been committed to create the best genetics in the world, and to ensure that the growers choose the best genetics, based upon their location, logistics and personal knowledge.
Arjan's vision for the future has always been to achieve cannabis normalisation around the world, and to promote positive cannabis culture to the mainstream media. To achieve this he realised he had to offer something unique. Most coffeeshops in those days were dark, stuffy, sold only imported Hash and Thai or Jamaican weed. In 1985 Arjan had started growing exotic strains gifted to him from friends and "strain hunted" from trips to places like Thailand, Nepal and other countries in South East Asia. The growers supplying the shops at that time were only interested in high yields and short flowering times, Arjan on the other hand started to experiment with his favourite haze strains. After many years of trying to convince other coffeeshops to sell his marijuana, Arjan later decided to start his own coffeeshop, The Green House, which he founded on the Tolstraat in 1992.
The vision to normalize cannabis use and spread cannabis culture around world, could be realized by using the celebrities to spread Arjan's message for cannabis legalization around the world. Arjan would ask celebreties like Woody Harrelson and many others to speak out against criminalizing cannabis when they returned back home. This vision of normalization has now become a reality, cannabis is becoming more and more accepted all around the world for recreational and medicinal use. In the United States alone, more than 19 states have now legalized cannabis for medicinal use and 2 states have recently legalized cannabis for recreational use. Additionally Uruguay has completely legalized cannabis, and the majority of the European countries have decriminalized cannabis for personal use. In countries like Spain, hundreds of legal cannabis social clubs have opened up all over the country. Amsterdam was once at the center of the fight for legalization, and is now one of the many places in world where cannabis use is becoming acceptable in society.