Prepare to soar higher than ever before with Amherst Diesel marijuana seeds . This strain is 80% sativa, 20% indica with THC levels as staggering as 26%. Amherst Diesel is the perfect daytime strain for anything in need of a serious mental boost, that includes energy, creativity, and motivation.
Amherst Diesel is an easy hybrid strain to grow and maintain. Its whopping THC levels awaken the brain to boost your energy levels and fill your head with new ideas.
Description
Sativa lovers won't be disappointed by this strain, but because of its whopping THC percentage, it's not recommended to consumers who suffer from anxiety and paranoia. Amherst Diesel has a way of making your brain race with different thoughts and ideas — perfect for brainstorming, not-so-perfect for a nervous mind.
Another reason to love Amherst Diesel is its smooth growing process. We recommend Amherst Diesel marijuana seeds to all levels of growers, particularity beginners. These plants do well both indoors and outdoors as they're not picky about their surroundings.
Despite its sativa genetics, this strain flowers over a relatively short 9–10 weeks (which is rare for many sativa varieties). Amherst Diesel marijuana seeds are also easy to maintain, take care of, and trim. When compared to other strains, it's low maintenance — perfect for growers with a busy schedule.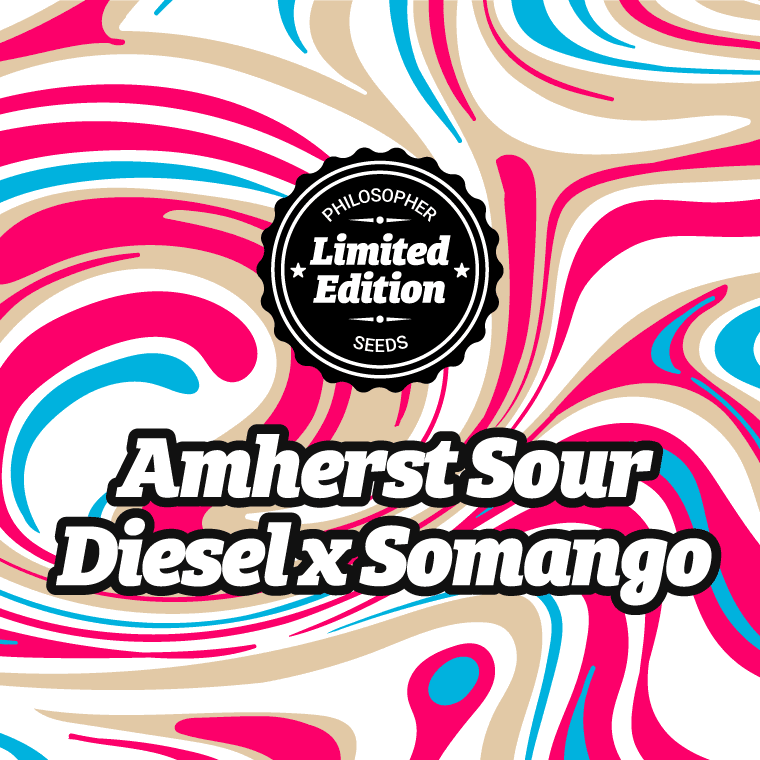 Its flowering period lasts about 65-70 days and offers yields of up to 600g per m2, creating large, heavy flowers fully loaded with glistening resin trichomes.
The female is a selection of Amherst Sour Diesel, an 80/20 Sativa/Indica hybrid crossing Chemdog pre 90 with Amherst Super Skunk, selected in Massachusetts.
Amherst Sour Diesel x Somango genetics
This genetic combination has created plants with a robust and leafy Sativa structure, with a very thick central cola, which stands out above the other branches. When sown it in the ground we will obtain a monstrous, conical-shape plant of up to 3m in height, full of large webbed leaves, and with many bulky colas. In indoor cultivation it will give perfect plants for SOG cultivation.
As a male, a selection of Somango (Big Skunk Korean x Jack Herer) was used, chosen for its outstandingly high productivity, as well as for its great strength and robustness, which make it very easy to grow. It is a 70/30 Indica-Sativa hybrid, with compact and leafy growth and a beautiful rounded bushy shape, which makes it perfectly adaptable to pruning and training techniques, and also for SCROG cultivation.
The effect it produces is relaxing at the physical level, accompanied by a very pleasant cerebral sensation, perfect to enjoy a good movie or to share with friends while having a few beers.