An outrageous Lemon smell Sativa which behaves like an Indica, short and seeming an airy Christmas tree, colas look like spare heads, very compact and resinous as snow was fallen on. Leaves are light geen and you can reach a great yield with topping method, every bud becoming a principal bud, very easy to grow. Heat resistant, red spiders casualities resistant, Agent Lemon tolerates humidity and dryness, and is endowed of a great rooting capacity. This strain is a treasure for all growers and breeders.
Secure payment by credit card
Sold strictly as souvenirs or collectible
Better than backcrossing, we performed multiple selection sessions with Jack the Cleaner and Jack the Ripper to find a male partner with same lineage characters, to get a pure F1 with more intrinsec properties of Original Agent Lemon possible. A perfect one was finally found, sour, very lemony, productive and fast flowering JTR with whom union turned out most relevant :
Original Agent Lemon was found among a large Agent Orange selection. An unique genotype owning this rare powerfull Mr Clean fragrance of Jack the Cleaner ,but also the devastating high Jack the Ripper is famous for. More than a surprise, truely a gift from heaven such fabulous patrimonies in a short Sativa dominant plant. Scent is incredibly lemony, agressive we can say. Many guys who tasted smoke nothing else anymore so much they're in loved with. After multiples solicitations, we had to purpose Agent lemon under seedform, making it available for all. One of the first projects of REGULAR SEED'S.
Sativa's high is instantaneous, you may sweat with violent genotypes, then giving way to a longlasting relaxation sensation. Peoples told me they dream every night when using her daily. Taste is sweet afghan, very fresh. We're very proud to pass on this legacy today.
Free worldwide delivery
Fast flowering Fast flowering Father Jack the Ripper Mother Original Agent Lemon % Indica 35% % Sativa 65% Harvest time 8 weeks Yield 500 g/sqm Taste / Odor Lemon, Mr Clean, agrums Effect Speed, activatating, cerebral, sweatness, heartracing, carefree THC level Very High Influence Mostly Sativa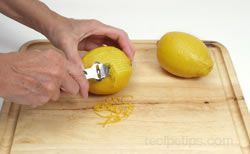 Lemon zest strips can be made by using the tip of a small knife and cutting vertical strips off the lemon. Be careful not to cut into the bitter pith layer.
Wash lemons thoroughly before beginning preparation.
Lemon juice can be used to make a refreshing beverage by adding water and sugar to fresh lemon juice. It is also used to enhance the flavor of many dishes. It can be added to both sweet and savory dishes to provide a fresh flavor. Because of it high content of ascorbic acid, lemon juice is also brushed on fruits and vegetables that brown easily when exposed to air or it is added to water and the fruit is soaked in the acidulated water for a short period of time to prevent it from browning. Shown below is a common method of removing the juice from the Lemons.
Remove from heat, drain strips and then return them to the saucepan.
Lemons are available throughout the year.
Place the lemon(s) in the microwave on high for 20 to 30 seconds.
Wash lemons thoroughly before cutting.